News
Merkel concerned about casualties in Donbas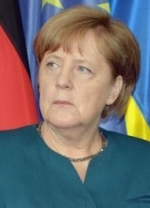 14 of May 2018 г.
German Chancellor Angela Merkel has expressed deep concern over ongoing ceasefire violations and human casualties in eastern Ukraine, according to Radio Liberty.
"Ukraine is worrying us," Merkel said after receiving the Lamp of Peace of St. Francis award in the Italian town of Assisi on May 12.
"We try to enforce the Minsk agreements, but every night there is a violation of the truce, every day human losses," she added.
As reported, Russian-backed separatists continue to deliberately violate the ceasefire on the contact line. In particular, in the evening of May 11, Ukrainian troops recorded another criminal activity of militants who shelled civil infrastructure in Zaitseve from a mortar.



FM-TV

УСІ НОВИНИ УКРАЇНСЬКОЮ ТУТ

ВСЕ НОВОСТИ ПО-РУССКИ ЗДЕСЬ
другие новости
14 of May 2018 г.

Govt sees chances of reaching agreement with IMF...
14 of May 2018 г.

Two Ukrainian soldiers wounded in Donbas over past day...
14 of May 2018 г.

EU expands sanctions against Russia for 'election' in
Crimea...
14 of May 2018 г.

USAID to give Ukraine additional $125 million for
Donbas...
15 of May 2018 г.

IMF names eight key reform areas to boost Ukraine's
economy...
15 of May 2018 г.

Ukraine doing without Russian gas for 900 days already...
15 of May 2018 г.

Militants violated ceasefire 42 times in eastern Ukraine
in last day...
15 of May 2018 г.

Klimkin urges OSCE to use all levers of influence on
Kremlin...
15 of May 2018 г.

Volker arrives in Donbas, meets with Joint Forces
Commander Nayev...
16 of May 2018 г.

One Ukrainian soldier killed, another two wounded in
Donbas in last day...