News
Klimkin urges OSCE to use all levers of influence on Kremlin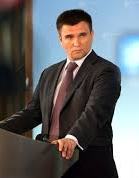 15 of May 2018 г.
Ukrainian Foreign Minister Pavlo Klimkin has met with the delegation of the OSCE Parliamentary Assembly (OSCE PA) headed by its President, George Tsereteli, the press service of the Ukrainian Foreign Ministry has reported.
"Pavlo Klimkin stressed the importance of parliamentary diplomacy within the OSCE and expressed gratitude to President George Tsereteli for his strong support for the sovereignty and territorial integrity of Ukraine in the context of Russia's ongoing armed aggression in Donbas and illegal occupation of the Autonomous Republic of Crimea and Sevastopol," the statement reads.
Klimkin stressed that the restoration of peace on Ukrainian soil depends on the readiness of the Russian side to stop its aggression against Ukraine. Klimkin urged the OSCE PA to use all possible means and tools to force the Kremlin to adhere to the principles of the Helsinki Final Act and to abandon its aggressive and expansionist policy towards Ukraine.
"George Tsereteli confirmed the support of the OSCE PA for the territorial integrity of Ukraine within its internationally recognized borders and assured further assistance and support for the initiatives of the Ukrainian side within the framework of the Assembly," the ministry's press service reported.
According to Tsereteli, a sign of the consolidated position of OSCE PA parliamentarians is the approval by the Assembly over the past seven years of the respective resolutions in support of Ukraine.
He stressed that during his visit to Donetsk region on May 13 he had an opportunity to assess the difficult security and humanitarian situation in Donbas and also noted the important role of the OSCE Special Monitoring Mission (SMM) in Ukraine.
FM-TV
УСІ НОВИНИ УКРАЇНСЬКОЮ
ТУТ


ВСЕ НОВОСТИ ПО-РУССКИ
ЗДЕСЬ
другие новости
15 of May 2018 г.

IMF names eight key reform areas to boost Ukraine's
economy...
15 of May 2018 г.

Ukraine doing without Russian gas for 900 days already...
15 of May 2018 г.

Militants violated ceasefire 42 times in eastern Ukraine
in last day...
15 of May 2018 г.

Volker arrives in Donbas, meets with Joint Forces
Commander Nayev...
16 of May 2018 г.

One Ukrainian soldier killed, another two wounded in
Donbas in last day...
16 of May 2018 г.

IMF mission (A technical assistance mission of the
International Monetary Fund) begins work in Ukraine...
16 of May 2018 г.

Oleg Sentsov has gone on a hunger strike demanding to
release all the Ukrainians jailed in Russia...
16 of May 2018 г.

Nadia Savchenko has said that she has written a letter
to Russian President Vladimir Putin...
16 of May 2018 г.

Militants violated ceasefire 45 times in eastern
Ukraine in last day...
14 of May 2018 г.

Govt sees chances of reaching agreement with IMF...