News
Zelensky to hold press conference on Oct 10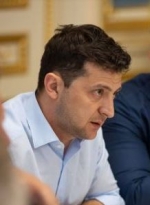 9 of October 2019 г.
Ukrainian President Volodymyr Zelensky will hold a press conference on Thursday, October 10, during which he will answer questions from journalists throughout the day, the press service of the head of state has reported.
"Media representatives will ask questions to the head of state in groups of seven to ten people. The groups will change each other every hour. They will be formed according to the accreditation list," the report reads.
It notes that each media outlet will receive, in response to its letter, a confirmation with a stated time for a meeting with the president. Media representatives will also be able to work in the press center at Kyiv Food Market, where the interview will be broadcast online.
In addition, the press conference will be broadcast online in social media on official accounts of the Office of the President.
The event will be held at 8 Moskovska Street at 10:00.



FM-TV

УСІ НОВИНИ УКРАЇНСЬКОЮ ТУТ

ВСЕ НОВОСТИ ПО-РУССКИ ЗДЕСЬ
другие новости
9 of October 2019 г.

Avakov meets with German ambassador to Ukraine...
9 of October 2019 г.

PrivatBank's net profit grew to UAH 27.4 billion in
January-September 2019...
9 of October 2019 г.

NATO leadership to visit Ukraine in late October...
9 of October 2019 г.

NBU expects to receive new IMF program this year ...
10 of October 2019 г.

Government plans to introduce transparent military procurement program...
10 of October 2019 г.

Ukraine, Austria to sign agreement on mutual exchange of driving licenses...
10 of October 2019 г.

Mogherini states that Crimea and Donbas are Ukraine...
10 of October 2019 г.

Germany will not recognize Russian passports issued to Donbas residents...
10 of October 2019 г.

Zelensky: Face-to-face meeting with Putin needed if we want to end war...
8 of October 2019 г.

Prystaiko says Russian-backed separatists will not become
Ukrainian MPs...