News
Foreign Ministry of Ukraine urges to thwart Russian scenario of Moldova's federalization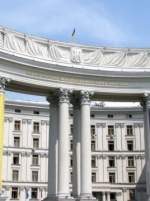 10 of June 2019 г.
Ukraine is interested in stable, democratic and European Moldova and is ready to provide, if necessary, assistance in solving existing problems.


"We urge the leading political forces of Moldova to act within the legal framework and to settle disputes by means of political dialogue in order to avoid forceful confrontation. It's important for the country and the security situation in the region to thwart external interference aimed at implementing the Russian scenario of the country's federalization," reads the statement of the Ministry of Foreign Affairs of Ukraine.
On June 8, a temporary coalition was created in the Parliament of Moldova. The Constitutional Court of Moldova delivered an order declaring all decisions, resolutions and legislative acts adopted by the current parliament on June 8 and in the subsequent period unconstitutional.
On June 9, the Constitutional Court suspended President Igor Dodon from the post for his refusal to dissolve the parliament and call snap elections, appointing deputy chairman of the Democratic Party Pavel Filip as the acting president of Moldova. Filip, in turn, signed a decree on the dissolution of parliament and calling of snap elections on September 6 of this year.



FM-TV

УСІ НОВИНИ УКРАЇНСЬКОЮ ТУТ

ВСЕ НОВОСТИ ПО-РУССКИ ЗДЕСЬ
другие новости
10 of June 2019 г.

80.9% of Ukrainians ready to vote in parliamentary
elections...
10 of June 2019 г.

Hearing in Ukraine v. Russia arbitration starts in
Permanent Court of Arbitration in The Hague...
10 of June 2019 г.

Russian security officers again conducting searches in
houses of Crimean Tatars...
10 of June 2019 г.

OSCE patrol comes under fire in Donbas...
10 of June 2019 г.

Five parties enter Verkhovna Rada...
11 of June 2019 г.

Zelensky dismisses head of State Affairs Department and
his deputy...
11 of June 2019 г.

Zerkal: Russia illegally stopped already 150 vessels on
way to Ukrainian ports...
11 of June 2019 г.

Ukraine's visa centre to open in London...
11 of June 2019 г.

Parliament dissolution: Zelensky hopes Constitutional
Court will make fair decision...
11 of June 2019 г.

Russian-led forces launch 17 attacks on Ukrainian troops
in Donbas...