News
Government forms delegation to develop agreement on financial cooperation with Germany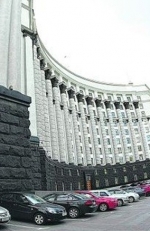 12 of October 2018 г.
The Cabinet of Ministers has approved the composition of the delegation to participate in the negotiations on developing the text of a draft agreement between the governments of Ukraine and Germany on financial cooperation within the project "Residential premises for internally displaced persons".
The corresponding resolution has been posted on the Government portal - Ukrinform.
Minister for Temporarily Occupied Territories and IDPs Vadym Chernysh has been appointed the head of the delegation.
The delegation will also include representatives of the Justice Ministry, Ministry of Foreign Affairs, Economic Development Ministry, Finance Ministry, Ministry for Temporarily Occupied Territories.
It is noted that the signing of the document is aimed at resolving the issue of ensuring the right of IDPs of Ukraine for permanent and affordable housing.

FM-TV

УСІ НОВИНИ УКРАЇНСЬКОЮ ТУТ

ВСЕ НОВОСТИ ПО-РУССКИ ЗДЕСЬ
другие новости
12 of October 2018 г.

About 30% of Ukraine's territory requires
humanitarian demining...
12 of October 2018 г.

Russia's attempts to use situation in Transcarpathia
dangerous for whole of Europe...
12 of October 2018 г.

UK Foreign Secretary supports Sentsov's nomination
for Sakharov Prize...
12 of October 2018 г.

Militants launched 27 attacks on Ukrainian troops in
Donbas in last day...
11 of October 2018 г.

Ecumenical Patriarchate restores Ukraine's Patriarch
Filaret, Archbishop Makarii to canonical status...
11 of October 2018 г.

NATO to help Ukraine to transfer to standards of Alliance
by 2020...
11 of October 2018 г.

Omelyan announces two maritime and rail projects in
Ukraine...
11 of October 2018 г.

The America's Got Talent showcase gave Mel B and
opportunity to make as surprise appearance with one ...
11 of October 2018 г.

Poroshenko welcomes start of UNESCO's direct monitoring
in occupied Crimea...
11 of October 2018 г.

Fire at ammo depot in Chernihiv region extinguished...