Music news
The Weeknd sweeps the board with TEN trophies at the 2021 Billboard Music Awards...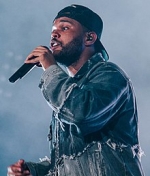 6 of October 2021 г.
The Weeknd
won big at the 2021
Billboard Music Awards
at the Microsoft Theatre on Sunday evening with a epic 10 wins and the final award of the night for Top Artist.
The ceremony was being hosted by the injured Nick Jonas, who was making his debut at the helm. He was nominated for the top award alongside late rappers Juice WRLD and Pop Smoke and Drake and Taylor Swift.
He said, sounding stunned, before sharing kind words for his parents: 'What a night it's been. I want to take this opportunity to thank my parents. I love you guys so much. I am the man I am today because of you, so thank you, and thank you to my fans, of course. I do not take this for granted'.
другие новости
6 of October 2021 г.

Gabby Allen has liked a social media post branding ex-
boyfriend Myles Stephenson a snake after her rumoured
affair with married Dan Osborne...
6 of October 2021 г.

Tom Hanks opened up about his plans with wife Rita
Wilson
to get vaccinated for COVID-19 at the right time, on
Monday's edition of the Today show...
6 of October 2021 г.

Rose, who was born in Italy, described Mexico as 'truly
magical' and 'a really healing land' whilst gushing over
her new home...
6 of October 2021 г.

Michelle Obama praised Alicia Keys for her talent and
grace at the 2021 Billboard Music Awards on Sunday.
The former First Lady remembered her...
7 of October 2021 г.

Kim Kardashian has found herself engulfed in an
unwanted
political narrative, amid her husband...
7 of October 2021 г.

Her intense new romance has been at the center of a
swirl of media attention while she continues divorce
proceedings against the father of her three children...
7 of October 2021 г.

He worked with Blake Shelton and Gwen Stefani during his
time on the hit singing show The Voice. And Adam Levine
was asked if he would...
7 of October 2021 г.

Elon Musk will make his debut hosting NBC's Saturday
Night Live, which has many fans and even some...
7 of October 2021 г.

Love Island stars Maura Higgins and Lucie Donlan stunned
in all-black ensembles as they enjoyed a night out in
London...
5 of October 2021 г.

While promoting his new movie The Good Liar, Ian
McKellen
revealed that actress Kate Beckinsale once proposed
marriage to him...