Music news
Jessica Alba shines in an emerald suit to ring Nasdaq opening bell with her family...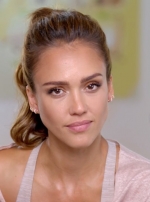 18 of January 2022 г.
She's built her brand from the ground up nearly a decade ago.
And Jessica Alba simply shined in an emerald green suit to ring the Nasdaq opening bell on Wednesday morning in New York City.
The 39-year-old actress announced her brand, The Honest Company, was officially going public after raising an incredible $412million IPO.
Jessica was joined by her husband of nearly 13 years, Cash Warren, and their three children: Honor, 12, Haven, nine, and Hayes, three.
Each family member was dressed in a shade of green, likely a nod to the brand's ethical approach to consumerism.
Nasdaq President and CEO Adena Friedman welcomed The Honest Company to the headquarters to commemorate its public market debut.
другие новости
18 of January 2022 г.

Britney Spears is one of many celebs self-
quarantining at
home during the
growing
coronavirus pandemic.
And the Grammy winner's ...
18 of January 2022 г.

Hailey Bieber 'swears by' prenatal supplements to
keep
her hair healthy and shiny. The 28-year-old model
has
revealed the secret...
18 of January 2022 г.

Three-time Grammy winner Lizzo shared a video of
herself
running on the treadmill while singing for 'stamina'
on
Thursday after seeing...
18 of January 2022 г.

Boxer Nicola Adams and rugby legend Jonny Wilkinson
are
reportedly set to appear on Bear Grylls' new show...
19 of January 2022 г.

Los Angeles continued to be pelted by rain on
Wednesday,
but that didn't stop actress Kristen Stewart from
running
some errands...
19 of January 2022 г.

She's the first ethic minority woman to front an
LVMH
fashion label...
19 of January 2022 г.

Her popular intimates brand SKIMS is releasing its
highly
anticipated 'Waffle' collection tomorrow morning.
And Kim Kardashian treated...
19 of January 2022 г.

While Americans are nearing the end of Donald
Trump's
term as United States President, some are going so
far as
to have him removed from...
19 of January 2022 г.

Armie Hammer's ex Paige Lorenze is continuing to
open up
about her months-long relationship with the 34-year-
old
actor, whom she claimed...
17 of January 2022 г.

15-time Grammy nominee Björk Guðmundsdóttir
announced
Monday that she will livestream all four concerts
she's
staging at Harpa...