Music news
Travis Scott rocks a leopard jacket with two fleece smiley faces on the front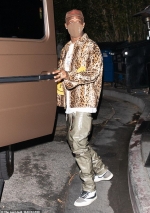 28 of Septeber 2021 г.
Travis Scott
rocked his trademark casual style in a bold leopard jacket embroidered with two fleece smiley faces on the front from Cactus Plant Flea Market as he dined in West Hollywood on Saturday.


After leaving The Nice Guy restaurant just past midnight, the eight-time Grammy nominee could also be seen wearing a brown baseball cap and $25 non-medical face mask, from his clothing brand Cactus Jack.
The 28-year-old Sicko Mode rapper (born Jacques Bermon Webster II) completed his cool look with a pair of diamond stud earrings, white sneakers and a gold chain.
другие новости
28 of Septeber 2021 г.

Barbra Streisand has purchased Disney stock for
George
Floyd's six-year-old daughter Gianna.
In an Instagram post Saturday, Gianna posed with her
stock certificate, while thanking...
28 of Septeber 2021 г.

Taylor Swift says she's been working on her presentation
at the upcoming Grammys for a year. The singer, 31, told
CBS...
28 of Septeber 2021 г.

Nicole Richie has been enjoying some quality family time
with husband Joel Madden and their kids during
quarantine...
28 of Septeber 2021 г.

Early on in her career she was known for her fun,
California-centric brand of pop music as well as her
signature raven-colored tresses...
29 of Septeber 2021 г.

Britney Spears is one of many celebs self-
quarantining at
home during the
growing
coronavirus pandemic.
And the Grammy winner's ...
29 of Septeber 2021 г.

15-time Grammy nominee Björk Guðmundsdóttir
announced
Monday that she will livestream all four concerts
she's
staging at Harpa...
29 of Septeber 2021 г.

She is often seen in the company of her dashing new
boyfriend, Emilio Vitolo. But Katie Holmes enjoyed a
moment of 'me time...
29 of Septeber 2021 г.

Penelope Cruz looked ready for a sizzling summer on
the
Mediterranean while covering her latest magazine.
The 46-year-old bombshell...
29 of Septeber 2021 г.

Billie Eilish shares another look at her light
blonde
locks on social media. The singer had her hair piled
up
on top of her head with...
27 of Septeber 2021 г.

Billie Eilish's family shared their tips for getting
through the coronavirus
epidemic on
Homefest: James Corden's Late Late Show Special ...