Music news
Amanda Seyfried's baby son makes a rare appearance during a Zoom interview with Willie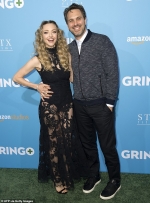 17 of Septeber 2021 г.
Amanda Seyfried's baby son made an appearance during an interview with Willie Geist for Today on Sunday.
The Mank actress was in the middle of a conversation about her home life when she was handed her child, whom she greeted with visible enthusiasm.
The 35-year-old's mood noticeably changed when she began to hold her son, leading Geist to remark, 'Oh my god, what a cute guy.'
Before she was handed her second child, Seyfried discussed the advantages of living on an isolated farm and spending more time with her family during their period of quarantine.
The Mean Girls actress expressed, 'there's some benefits, and there's some serious drawbacks...they squeeze in so much more work.'
другие новости
17 of Septeber 2021 г.

She's one of Bravo's Real Housewives Of Beverly Hills.
But on Sunday, Garcelle Beauvais headed to the
neighboring community of Sherman Oaks...
17 of Septeber 2021 г.

Lily Aldridge was among the star-studded lineup of
presenters for the Academy of Country Music Awards'
ceremony on Wednesday from Nashville, Tennessee...
17 of Septeber 2021 г.

She's been a regular on the beach volleyball courts
near
her Santa Monica home for months in addition to her
gym
workouts...
17 of Septeber 2021 г.

Jennifer Lopez will be playing her greatest hits for
American audiences when she headlines Dick Clark's
New
Year's Rockin' Eve With Ryan Seacrest 2021...
17 of Septeber 2021 г.

And Lana Del Rey flashed her impressive engagement ring
during an outing in LA on Thursday...
17 of Septeber 2021 г.

She is currently expecting her second child with fitness
trainer husband Alex Fine. And Cassie continued to
provide her following with glimpses...
16 of Septeber 2021 г.

She's the first ethic minority woman to front an
LVMH
fashion label...
16 of Septeber 2021 г.

Kanye West 'is anxious and very sad' as he's been having
a difficult time amid a growing sense that his marriage
to Kim Kardashian...
16 of Septeber 2021 г.

She famously ditched her signature slime green strands
and
reemerged as a blonde bombshell just one week ago...
15 of Septeber 2021 г.

Her latest movie, Infamous, hit the top spot in the US
box office last week.
And Bella Throne took to Instagram on Tuesday...