Music news
The Crown's Gillian Anderson looks ravishing in a red gown as she wins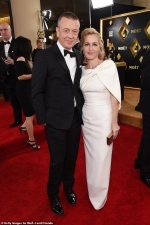 5 of April 2021 г.
Gillian Anderson was a winner on all fronts on Sunday as she dazzled at the 2021 Screen Actors Guild Awards.
The 52-year-old actress not only dazzled in a red gown as she appeared virtually at the pre-taped ceremony, but also scooped the best actor in a drama series award for her part in The Crown.
Gillian, who plays former British prime minister Margaret Thatcher in the Netflix series, looked flawless in strapless Dolce & Gabbana dress and shoes along with Chopard jewelry.

She beat out fellow nominees Olivia Colman (The Crown), Emma Corrin (The Crown), Julia Garner (Ozark) and Laura Linney (Ozark) to win the gong for female actor in a drama series.

другие новости
5 of April 2021 г.

She's been roasted by everyone from late night hosts to
physicians for her very eccentric Goop wellness
products...
5 of April 2021 г.

She beat out talented performers including two Oscar
winners to win her first SAG Award this weekend...
5 of April 2021 г.

The Weeknd has donated $1million to United Nations World
Food Programme to help fight famine in Ethiopia...
5 of April 2021 г.

Two-time SAG Award winner Mindy Kaling dazzled in a
cobalt-blue Alex Perry gown to virtually present at the
...
6 of April 2021 г.

Her former husband Johnathon Schaech tweeted a photo
from their wedding day last week saying he had to
'explain' it to his son...
6 of April 2021 г.

HBO has given a ten-episode series order to the half-hour
comedy Minx, starring Ophelia Lovibond and Jake Johnson,
as confirmed by Variety on Monday...
6 of April 2021 г.

Katy Perry urged a teenage singer to throw her
microphone and 'make that stage your b****!'...
6 of April 2021 г.

The singer, 36, shared an array of stylish snaps of
herself posing upon a toilet seat in between...
6 of April 2021 г.

She's due to star in a sequel to the blockbuster Marvel
movie Black Panther. And in an interview on...
7 of April 2021 г.

Madonna is reportedly on the verge of quitting her
life
in Lisbon, after publicly revealing she feels 'bored
and
lonely' ...