Music news
Jessica Alba totes $3,550 Celine bag to a meeting at her Honest Company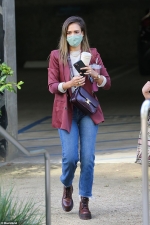 22 of November 2021 г.
Golden Globe nominee Jessica Alba toted a $3,550 Celine 'Triomphe' calfskin bag to the Santa Monica headquarters of her Honest Company on Tuesday.
The Pomona-born 39-year-old coordinated her expensive burgundy purse with a matching blazer and oxblood boots.
Jessica made sure to protect herself and others from the coronavirus by wearing a green cloth face mask.
Since 2011, Alba has kept busy leading her 190 employees at The Honest Company, which does a reported $350M in annual sales.
The Mexican-American mompreneur will next turn the big 4-0 on April 28 followed by her 13th wedding anniversary with husband Cash Warren on May 19.
другие новости
22 of November 2021 г.

The Academy Of Motion Pictures Arts and Sciences has
invited 819 new people to join the organization this
year, including Zendaya, Eva Longoria...
22 of November 2021 г.

Howard Stern is working on a contract extension worth
around $120 million with Sirius XM...
22 of November 2021 г.

She announced earlier this week that she would focus on
helping Americans make a plan to cast their ballots for
the November 3 general election...
22 of November 2021 г.

As the U.S. faces a growing number of hate crimes
directed
at Asian Americans, Hollywood is reflecting on its own
treatment of stereotypes...
25 of November 2021 г.

While the Real Housewives series have long been
associated with copious amounts of social drinking,
three
of the women from the Bravo...
25 of November 2021 г.

Kanye West has unveiled a new promotional video for
his
Yeezy Christian Academy...
25 of November 2021 г.

Rapper Cardi B has never been shy when it comes to
footwear and fashion, which has lead her to pick up
yet
another award...
25 of November 2021 г.

Ryan Reynolds has been enjoying some family time, as he
quarantines with wife Blake Lively and their three
daughters...
25 of November 2021 г.

Zendaya took to Twitter on Thursday with kind words for
the crew of her new movie Malcolm & Marie, which begins
streaming Friday on Netflix...
19 of November 2021 г.

Miley Cyrus has been busy promoting her infectious
new
track Midnight Sky. But the 27-year-old superstar
put
promotion...