Music news
Armie Hammer's ex Paige Lorenze says she felt 'unsafe' in relationship with the disgraced actor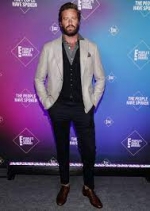 5 of November 2021 г.
Armie Hammer's ex Paige Lorenze is continuing to open up about her months-long relationship with the 34-year-old actor, whom she claimed made her feel 'unsafe.'
Lorenze, 23, recently alleged to Vanity Fair that Hammer 'started making rules for me of things I could and couldn't do' as their relationship progressed, which prompted her to pull the plug.
'I was also emotionally dependent on him,' she told the outlet. '[I broke things off via text] because you never know what you're going to get with him—he's kind of a scary person.'

Paige also claimed that Armie told her she 'couldn't have anyone else in [her] bed,' which was one of many demands that led to her feeling uneasy with their dynamic.


другие новости
5 of November 2021 г.

Lady Gaga was pictured wearing a white crop top,
flesh-
colored leggings and her fresh trademark blond
hairdo
that she's been replacing with pink styles of late.
The actress and musician...
5 of November 2021 г.

William Shatner said he'd cast Chris Pine to play him in
a biopic. The 89-year-old actor was asked who he would
pick...
5 of November 2021 г.

Taylor Swift was recently named Apple Music's 'Songwriter
Of The Year,' following the success of her latest albums
Folklore and Evermore...
5 of November 2021 г.

Jennifer Lopez looked fitter than ever as she flaunted
her six-pack abs in a cropped olive green sweatshirt...
4 of November 2021 г.

Miley Cyrus paid homage to one of her raciest videos
at
the 2020 MTV VMA Awards on Sunday night...
4 of November 2021 г.

Paris Hilton showed off her new chin-length bob, just
days after sharing images of herself wearing a similar
looking wig in a glam new Lanvin campaign...
4 of November 2021 г.

She dropped $13.8 million earlier this month on a
stunning Beverly Hills mansion.
And Rihanna is clearly enjoying life in the celebrity...
4 of November 2021 г.

She's a devoted mom to her three children.
And on Wednesday, Kate Hudson was seen enjoying a stroll
with her partner Danny Fujikawa and...
4 of November 2021 г.

The Weeknd has donated $1million to United Nations World
Food Programme to help fight famine in Ethiopia...
3 of November 2021 г.

He's a fan favourite on Strictly Come Dancing after
joining the professional line up in 2013...