Music news
Brian Austin Green and Sharna Burgess look blissfully happy together in Instagram selfie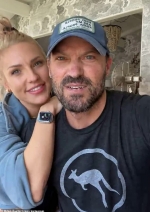 25 of August 2021 г.
They went public with their relationship in January and recently enjoyed a romantic vacation in Hawaii.
And on Sunday, Dancing With The Stars pro dance Sharna Burgess and Beverly Hills, 90210 actor Brian Austin Green looked blissfully happy in a photo Green shared to his Instagram.
The pair wore huge smiles as they posed for the mirror selfie.
'Sharna's been amazing in my life — not only for that reason, but that's been a big thing for me. She's been so invaluable, she really has,' he explained.
Burgess, 35, then shared some sweet words about her man, admitting that he had taken her 'completely by surprise' and that she has 'never known a man like him.'
другие новости
25 of August 2021 г.

He's famous for starring in Teen Wolf and the Maze Runner
movies...
25 of August 2021 г.

The first black Bachelor Matt James cheered himself up
by attending the grand opening of Virgin Hotels Las Vegas
...
26 of August 2021 г.

Caitlyn Jenner had some pep in her step as she started
off Monday with a coffee and a chat...
30 of August 2021 г.

Becoming a first-time mother hasn't quelled Iggy Azalea's
fashion-forward style choices.
On Wednesday, the pop star, 30, kept up with her recent
...
30 of August 2021 г.

She was born in Manhattan though raised in Los Angeles.
And while some celebrities quit the big Apple because...
30 of August 2021 г.

Two-time Grammy nominee Demi Lovato - who came out as
non-binary last Wednesday - asked their woke fans on
Saturday to no longer comment...
31 of August 2021 г.

Brad Womack had two failed chances at love when he
starred on seasons 11 and 15 of The Bachelor.
And the bar owner is sure to have...
31 of August 2021 г.

He's set to join the cast of EastEnders as Sonia Fowler's
long-lost father Terry Cant...
19 of August 2021 г.

Saweetie reflected on refusing to 'let the world stop
for me' amid her breakup from her boyfriend Quavo of
Migos fame...
19 of August 2021 г.

George Clooney is teaming up with Omaze for a new
charitable venture, and he starred in a hilarious new
video to promote...