Music news
Rose McGowan becomes a permanent resident of Mexico and describes the country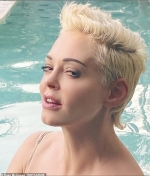 19 of February 2021 г.
Rose McGowan has become a permanent resident of
Mexico
.
As she made the revelation, the Charmed actress, 47, who currently lives in Tulum, admitted she's 'so grateful' to have received her permanent residency card.
Rose, who was born in Italy, described Mexico as 'truly magical' and 'a really healing land' whilst gushing over her new home.
Westworld star Evan accused her Manson, who she was also engaged to, of 'brainwashing' her and 'manipulating her into submission' and Rose has now said she's 'profoundly sorry' to hear Evan's story.
Speaking out, she branded Hollywood 'a cult' and insisted she is supportive of the alleged survivors.
In a statement posted to Instagram last week, Rose penned: 'My statement: I am profoundly sorry to those who have suffered the abuse & mental torture of Marilyn Manson.
'When I say Hollywood is a cult, I mean the Entertainment industry including the music industry is a cult. Cult's protect the rot at the top...
другие новости
19 of February 2021 г.

She's been keeping her fans supplied with sun-soaked
bikini snaps while working in Barbados over the past
three months...
19 of February 2021 г.

Boxer Nicola Adams and rugby legend Jonny Wilkinson are
reportedly set to appear on Bear Grylls' new show...
19 of February 2021 г.

The 23rd British Independent Film Awards took place
virtually on Thursday night and a host of celebrities
appeared via video link to celebrate the occasion...
19 of February 2021 г.

James Newman will return to represent the United Kingdom
at the 2021 Eurovision Song Contest, it was announced on
Friday...
18 of February 2021 г.

Penelope Cruz looked ready for a sizzling summer on the
Mediterranean while covering her latest magazine.
The 46-year-old bombshell...
18 of February 2021 г.

Kanye West 'is anxious and very sad' as he's been having
a difficult time amid a growing sense that his marriage
to Kim Kardashian...
18 of February 2021 г.

And on Wednesday, it was confirmed that Regina King is
going to star in and produce her dream project - a biopic
of America's first...
18 of February 2021 г.

And Winnie Harlow demonstrated her credentials while
stepping out for dinner in Los Angeles this Wednesday
evening...
18 of February 2021 г.

She a three-time Olympic gold medal-winning gymnast.
And now, with her win Wednesday night, Gabby Douglas can
boast at being the first-ever...
17 of February 2021 г.

Kylie Jenner 'laughed' when she heard there were rumours
she was secretly pregnant after Caitlyn Jenner said she
had 20 grandchildren...