Music news
Amber Heard shows off fall fashion in red flannel and a Rolling Stones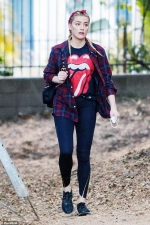 19 of November 2020 г.
Amber Heard
donned fall fashion as she went for a hike in Los Angeles with a friend on Wednesday.
The Aquaman actress, 34, wore a red flannel with blue highlights over a black T-shirt with the famed Rolling Stones tongue logo.
The Austin, Texas-born beauty donned a pair of dark blue leggings and black shoes, toting a black backpack with her hair in braids and a red bandanna tied up top.

другие новости
19 of November 2020 г.

She's seven months along in her second pregnancy.
And on Wednesday, Kelly Rowland showed off her growing
baby bump as she twinned...
19 of November 2020 г.

Four celebrities remain to compete for the Mirrorball
Trophy on the season finale of ABC's Dancing With The
Stars on Monday...
19 of November 2020 г.

Draya Michele on Wednesday dazzled in a wintry white
ensemble as she filmed her docuseries Doses...
19 of November 2020 г.

Keeping Up with the Kardashians star Kim Kardashian West
turned 40 on October 21 and yet, a month later, she's
still sharing almost...
17 of November 2020 г.

But on Wednesday Milo Ventimiglia was also asked about
his show This Is Us, which was recently completely
ignored by the 2019...
17 of November 2020 г.

She was the picture of sophistication when she joined a
slew of stars for the British Fashion Awards held at the
Royal Albert Hall on Monday evening...
17 of November 2020 г.

The Oscar-winning actress, 44, said she 'couldn't be more
excited' as she's set to headline two romantic comedies
for the streaming service, titled Your Place Or Mine...
17 of November 2020 г.

Barbra Streisand has purchased Disney stock for George
Floyd's six-year-old daughter Gianna.
In an Instagram post Saturday, Gianna posed with her
stock certificate, while thanking...
17 of November 2020 г.

Black Panther cowriter and director Ryan Coogler shared
a tribute to the late Chadwick Boseman on Sunday...
16 of November 2020 г.

He currently leads the Showtime miniseries The Good Lord
Bird as the abolitionist John Brown, who led...