Music news
Amber Heard shows off fall fashion in red flannel and a Rolling Stones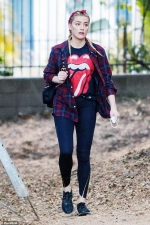 25 of January 2021 г.
Amber Heard
donned fall fashion as she went for a hike in Los Angeles with a friend on Wednesday.
The Aquaman actress, 34, wore a red flannel with blue highlights over a black T-shirt with the famed Rolling Stones tongue logo.
The Austin, Texas-born beauty donned a pair of dark blue leggings and black shoes, toting a black backpack with her hair in braids and a red bandanna tied up top.
другие новости
25 of January 2021 г.

Brad Pitt had quite the day, after he received a
surprise Emmy nomination for one of his shortest
roles
yet...
25 of January 2021 г.

She was seen embracing and holding hands with the
Pittsburgh Pirates player Cole Tucker last week...
26 of January 2021 г.

Emmy Rossum added a much-needed explanation to the
viral
black and white challenge, which has gone viral on
Instagram...
26 of January 2021 г.

Gabrielle Union has recently debuted a gorgeous new
look, showing off her natural curls to her
16.4million Instagram followers...
26 of January 2021 г.

She recently returned back to Los Angeles after a
stunning trip to Turks and Caicos. And Vanessa
Hudgens
got right back to work with...
27 of January 2021 г.

While promoting his new movie The Good Liar, Ian
McKellen
revealed that actress Kate Beckinsale once proposed
marriage to him...
27 of January 2021 г.

Billie Eilish, Justin Timberlake and other
celebrities
are using their social media platforms to bring
attention
to the death of Rayshard Brooks in Atlanta on
Friday...
27 of January 2021 г.

She has been spending the past several weeks
enjoying
time traveling with her husband.
And on Thursday, Miranda Lambert shared a photo...
27 of January 2021 г.

Taylor Swift fans are celebrating the end of a
contract
that blocked her from re-recording her old music
amid a
row over ownership with her former record label...
28 of January 2021 г.

Megan Fox and her beau Machine Gun Kelly were
spotted
arriving to the Mayan Theater in Downtown ...