Music news
Kim Kardashian rocks Versace mini-dress in yet ANOTHER snap from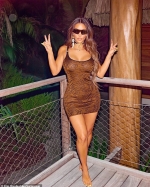 19 of November 2020 г.
Keeping Up with the Kardashians
star
Kim Kardashian
West turned 40 on October 21 and yet, a month later, she's still
sharing
almost daily snaps from her week-long birthday getaway to Tahiti.
The Calabasas mother-of-four flew her hair artist Chris Appleton and make-up artist Mary Phillips all the way to French Polynesia to make sure she was glam and camera-ready.
Kardashian received backlash for spending $1M on her tone deaf, mask-free festivities in the midst of record-breaking unemployment and COVID-19 numbers spiking nationwide.

другие новости
19 of November 2020 г.

She's seven months along in her second pregnancy.
And on Wednesday, Kelly Rowland showed off her growing
baby bump as she twinned...
19 of November 2020 г.

Four celebrities remain to compete for the Mirrorball
Trophy on the season finale of ABC's Dancing With The
Stars on Monday...
19 of November 2020 г.

Draya Michele on Wednesday dazzled in a wintry white
ensemble as she filmed her docuseries Doses...
17 of November 2020 г.

But on Wednesday Milo Ventimiglia was also asked about
his show This Is Us, which was recently completely
ignored by the 2019...
17 of November 2020 г.

The Oscar-winning actress, 44, said she 'couldn't be more
excited' as she's set to headline two romantic comedies
for the streaming service, titled Your Place Or Mine...
17 of November 2020 г.

Black Panther cowriter and director Ryan Coogler shared
a tribute to the late Chadwick Boseman on Sunday...
16 of November 2020 г.

He currently leads the Showtime miniseries The Good Lord
Bird as the abolitionist John Brown, who led...
23 of November 2020 г.

It is a popular trend born out of the era of social-
distancing and lockdowns caused by the coronavirus
pandemic...
23 of November 2020 г.

Dame Helen Mirren has joked how lockdown has been the
'first time' she's ever stayed in one place long enough
to use a whole tube of toothpaste....
24 of November 2020 г.

She previously gushed about having the 'perfect
quarantine boyfriend' in her young rocker Goody Grace.
Kate Beckinsale and her 22-year-old beau...