Music news
Chris Pratt's animated movie Onward wins the People's Choice Award for Best Family Movie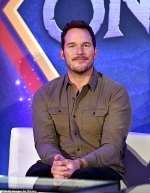 16 of March 2021 г.
A controversial Instagram post from
Chris Pratt
asking fans to vote for his Disney Pixar movie Onward has paid off at the 2020
People's Choice Awards
.
Pratt, 41, voiced one of two elven brothers with Tom Holland in Onward, which beat out Dolittle, My Spy, Scoob! Sonic the Hedgehog, Call of the Wild, The Willoughbys and Trolls World Tour.
While Pratt and Holland haven't commented on their movie's big win, Pratt's early October post about voting for the movie was quite divisive.
другие новости
16 of March 2021 г.

She was the picture of sophistication when she
joined a
slew of stars for the British Fashion Awards held at
the
Royal Albert Hall on Monday evening...
16 of March 2021 г.

Barbra Streisand has purchased Disney stock for
George
Floyd's six-year-old daughter Gianna.
In an Instagram post Saturday, Gianna posed with her
stock certificate, while thanking...
16 of March 2021 г.

She will be appearing on a raunchy podcast about
sex.
And Miley Cyrus promoted that highly-anticipated
appearance the best way she could...
16 of March 2021 г.

Blake Shelton thanked his fiancee Gwen Stefani as he
took home the honors for best Country Artist at the
2020
E! People's Choice Awards Sunday in Santa ...
17 of March 2021 г.

The threat of impending quarantine did little to
dampen
the mood on Sunday as Demi Rose got to work on her
latest
raunchy...
17 of March 2021 г.

Miley Cyrus paid homage to one of her raciest videos
at
the 2020 MTV VMA Awards on Sunday night...
17 of March 2021 г.

Willie Nelson opens up about his past marital
infidelities in his new book Me and Sister Bobbie...
17 of March 2021 г.

Jennifer Lopez has been teasing fans with new music
she
said was 'right around the corner.' And the 51-year-
old...
17 of March 2021 г.

Kim Kardashian and husband of six years Kanye West
have
'completely' stopped going to marriage counseling,
amid
reports of their looming divorce...
15 of March 2021 г.

'For one, I wanted to say I love All In,' Teddi said
in
the fresh faced video. 'I am so incredibly proud of
the
over 15,000 lives we have helped change...