Music news
Rapper Fabolous and Emily Bustamante are welcomin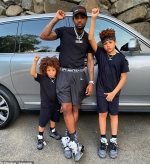 11 of January 2021 г.
Rapper Fabolous and Emily Bustamante are welcoming their third child on Sunday night.
Bustmante, who just celebrated her 39th birthday on Saturday, welcomed her third child on Sunday, as she revealed in an Instagram story post.
While the couple hasn't revealed the name yet, they announced in June that they were welcoming a baby girl.
другие новости
11 of January 2021 г.

They have been in the throes of love since going public
with their unlikely romance in late May.
And Megan Fox and beau Machine Gun Kelly were...
11 of January 2021 г.

Olivia Munn was the image of California casual when she
was spotted out in Los Angeles this Thursday.
The 40-year-old...
11 of January 2021 г.

Cheryl Burke and Matthew Lawrence got candid this week
about her alcohol struggles, which led to their split in
2008...
11 of January 2021 г.

Canadian-born actress Cobie Smulders is proud to
exercise her right to vote in America for the first time.
On Thursday, the Avengers actress was...
12 of January 2021 г.

The threat of impending quarantine did little to dampen
the mood on Sunday as Demi Rose got to work on her latest
raunchy...
12 of January 2021 г.

Miley Cyrus paid homage to one of her raciest videos at
the 2020 MTV VMA Awards on Sunday night...
12 of January 2021 г.

Willie Nelson opens up about his past marital
infidelities in his new book Me and Sister Bobbie...
12 of January 2021 г.

After months of a 'pants-optional' work
environment, Jimmy Kimmel opted to dress up ahead of
Hollywood's first major pandemic-era...
12 of January 2021 г.

Jennifer Lopez has been teasing fans with new music she
said was 'right around the corner.' And the 51-year-
old...
13 of January 2021 г.

Kim Kardashian surprised her 199million Instagram
followers as she unveiled SKIMS Hosiery earlier this
week...