Music news
Jimmy Kimmel enjoys a martini in his boxers as he prepares to host 2020's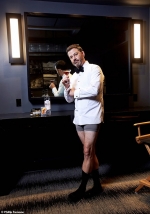 12 of January 2021 г.
After months of a 'pants-optional' work environment,
Jimmy Kimmel
opted to dress up ahead of Hollywood's first major pandemic-era awards show on Sunday.
The 72nd Emmys host, however, hilariously delayed slipping into his tuxedo as long as possible, as he posed in a crisp white dress, black bow tie and just his boxers.
Ahead of his evening's responsibilities, the 52-year-old comedian enjoyed a martini in his COVID-era ensemble, which also included a pair of long, black socks.


FM-TV

УСІ НОВИНИ УКРАЇНСЬКОЮ ТУТ

ВСЕ НОВОСТИ ПО-РУССКИ ЗДЕСЬ
другие новости
12 of January 2021 г.

The threat of impending quarantine did little to dampen
the mood on Sunday as Demi Rose got to work on her latest
raunchy...
12 of January 2021 г.

Miley Cyrus paid homage to one of her raciest videos at
the 2020 MTV VMA Awards on Sunday night...
12 of January 2021 г.

Willie Nelson opens up about his past marital
infidelities in his new book Me and Sister Bobbie...
12 of January 2021 г.

Jennifer Lopez has been teasing fans with new music she
said was 'right around the corner.' And the 51-year-
old...
13 of January 2021 г.

Kim Kardashian surprised her 199million Instagram
followers as she unveiled SKIMS Hosiery earlier this
week...
13 of January 2021 г.

Sofia Richie is trying to keep herself busy in
quarantine despite sharing last week that she was 'still
stuck in the house...
13 of January 2021 г.

While Americans are nearing the end of Donald Trump's
term as United States President, some are going so far as
to have him removed from...
13 of January 2021 г.

LeAnn Rimes looked effortlessly cool as she prepared to
make new music in LA on Tuesday.
The 38-year-old singer stunned in a silky, black slip...
11 of January 2021 г.

They have been in the throes of love since going public
with their unlikely romance in late May.
And Megan Fox and beau Machine Gun Kelly were...
11 of January 2021 г.

Rapper Fabolous and Emily Bustamante are welcoming their
third child on Sunday night.
Bustmante, who just celebrated her 39th birthday...