Music news
Miley Cyrus says she has NEVER experienced 'an election this important' as she urges young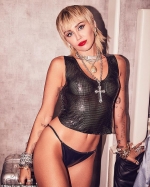 7 of April 2021 г.
Miley Cyrus
has been busy promoting her infectious new track Midnight Sky.
But the 27-year-old superstar put promotion aside on Friday to candidly discuss the importance of heading to the polls and voting in the upcoming United States presidential election.
'Listen I'm 27 and I know I've never experienced an election this important in my life and hopefully not again in my lifetime,' said Cyrus in a recent interview with Nova 96.9′s Fitzy & Wippa.

FM-TV
УСІ НОВИНИ УКРАЇНСЬКОЮ
ТУТ


ВСЕ НОВОСТИ ПО-РУССКИ
ЗДЕСЬ
другие новости
7 of April 2021 г.

Madonna is reportedly on the verge of quitting her
life
in Lisbon, after publicly revealing she feels 'bored
and
lonely' ...
7 of April 2021 г.

She is set to make her Hollywood movie debut in a
musical
reimagining of Cinderella.
But after filming on the project at Pinewood
Studios...
7 of April 2021 г.

She just released her highly anticipated skincare
line, Fenty Skin, last week.
And Rihanna put her favorite products to use...
7 of April 2021 г.

While the Real Housewives series have long been
associated with copious amounts of social drinking,
three
of the women from the Bravo...
8 of April 2021 г.

Actor Chris D'Elia was dropped by his representation
at
CAA following accusations of sexual misconduct,
according
to Variety on Tuesday...
8 of April 2021 г.

Taylor Swift has become one of the biggest names in
music, all while navigating a male-dominated
industry...
8 of April 2021 г.

And on Thursday, Emma Roberts maintained her fashionista
credentials by sporting a face mask that matched the
color of her sweater...
8 of April 2021 г.

Madison Beer is preparing to drop her debut album Life
Support in the new year...
8 of April 2021 г.

Gal Gadot has teased a crossover between Wonder
Woman and
Black Adam. The 35-year-old actress reprises her
role as
the iconic superhero in Wonder Woman 1984...
6 of April 2021 г.

Her former husband Johnathon Schaech tweeted a photo
from their wedding day last week saying he had to
'explain' it to his son...