Music news
Kylie Jenner rocks a bubblegum pink Prada hat and a patterned tube top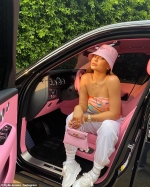 10 of Septeber 2020 г.
But Kylie Jenner proved her standalone star power on Wednesday in a series of stunning self-portraits shared with her 195million followers on Instagram.
The 23-year-old makeup mogul posed in the driver's seat of her shiny black Rolls Royce with custom pink interior.

She had two gold chains hanging around her neck and she decked out her wrists in various bangles and a glistening gold watch.
'it's everything for me,' captioned the Kylie Cosmetics founder, who appeared to be sporting her go-to glowing makeup look.
Jenner posed with her hands in her lap in one photo, while posing with her hand on her shoulder for another.

FM-TV

УСІ НОВИНИ УКРАЇНСЬКОЮ ТУТ

ВСЕ НОВОСТИ ПО-РУССКИ ЗДЕСЬ
другие новости
10 of Septeber 2020 г.

She's been spending time at her home in Long Island's
Amagansett throughout the coronavirus pandemic.
And Scarlett Johansson stepped out Wednesday...
10 of Septeber 2020 г.

Hotel heiress-turned-reality TV icon Paris Hilton still
loves and hangs out with Grammy winner Britney Spears,
and she blasted...
10 of Septeber 2020 г.

The fate of her conservatorship and financial freedom has
been the dominant topic among her droves of fans, not to
mention friend Paris Hilton...
10 of Septeber 2020 г.

Denise Richards denied being friends with Brandi
Glanville despite evidence to the contrary on The Real
Housewives of Beverly Hills reunion...
11 of Septeber 2020 г.

Billie Eilish has been lending her voice to the
political causes closest to her heart, most recently
backing Democratic presidential hopeful Joe Biden...
11 of Septeber 2020 г.

She has been lending a hand at her many NYC shoe stores
amid the coronavirus pandemic.
And Sarah Jessica Parker donned a sweet look ...
11 of Septeber 2020 г.

Supernatural's cast and crew shared their emotional day
on social media Thursday as cameras rolled on the series
of the last time...
11 of Septeber 2020 г.

Their high-profile split has been full of drama.
And it seems that tensions may once again be ramping up
between celebrity exes Brad Pitt...
11 of Septeber 2020 г.

Just weeks after NBCUniversal issued a straight-to-
series order for a new series entitled Joe Exotic, with
Kate McKinnon starring...
9 of Septeber 2020 г.

Daniel Craig has confessed that he's become an expert
drinker since becoming James Bond...