Page under development
Kim Kardashian advocates for 'sensible moderate police reform' on Twitter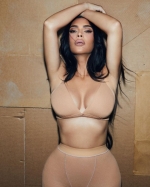 6 of December 2021 г.
Kim Kardashian
has found herself engulfed in an unwanted political narrative, amid her husband
Kanye West
's bizarre presidential bid.
But the SKIMS mogul appears to be doing damage control, while continuing her criminal justice advocacy.
She advocated for 'sensible moderate police reform' Sunday, as she took to Twitter to urge her followers to vote yes on California Senate Bill 731.