Music news
Lana Del Rey puts on a leggy display in Daisy Dukes as she makes 7-Eleven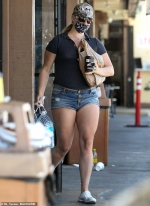 30 of July 2020 г.
Lana Del Rey has recently been hard at work on her poetry collection Violet Bent Backwards Over the Grass.
And the six-time Grammy nominee is enjoying some downtime after dropping the spoken word album.
She put on a leggy display Tuesday in a pair of denim Daisy Dukes, as she made a stop at 7-Eleven in Los Angeles, during a break from quarantine.
Lana previously took to Instagram with an impromptu black-and white video of herself in a car.
She read the poem LA Who Am I to Love You? from her debut book Violet, the same day the audiobook was released.
другие новости
30 of July 2020 г.

Emmy Rossum added a much-needed explanation to the
viral
black and white challenge, which has gone viral on
Instagram...
30 of July 2020 г.

Katy Perry recently announced she was pushing back the
release of her fifth studio album, Smile, by two weeks...
30 of July 2020 г.

Madonna twice posted a video of doctors supporting the
malaria drug hydroxychloroquine as a 'cure' for the novel
coronavirus after it was retweeted...
30 of July 2020 г.

Brad Pitt had quite the day, after he received a
surprise Emmy nomination for one of his shortest roles
yet...
29 of July 2020 г.

Doja Cat has revealed that she was diagnosed with and has
since recovered from COVID-19 just weeks after she mocked
people concerned about the global pandemic...
29 of July 2020 г.

Tyra Banks has some very big shoes to fill when she hosts
season 29 of Dancing With The Stars after veterans Tom
Bergeron and Erin Andrews were let go...
29 of July 2020 г.

Jennifer Aniston was clearly overjoyed to learn of her
Primetime Emmy Award nomination on Tuesday morning, which
was her seventh-ever...
29 of July 2020 г.

Brooke Shields isn't letting the quarantine slow her
down. The 55-year-old model/actress was seen in her...
29 of July 2020 г.

He is a man who loves his Dunkin coffee.
And Ben Affleck made his daily run to the chain coffee
shop on Tuesday...
28 of July 2020 г.

She's regarded as the reigning Goddess of Pop ever
since
she hit the music scene in the 60s...