Music news
Emmy Rossum tells fans to not let their 'desire for cute black and white selfies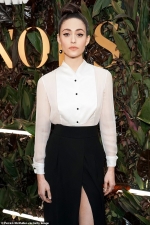 18 of August 2021 г.
Emmy Rossum added a much-needed explanation to the viral black and white challenge, which has gone viral on Instagram.
With little context or uniformity apart from using the caption 'Challenge accepted' and hashtag #womensupportingwomen, the 33-year-old Shameless actress clarified the important origins of new social media's latest challenge.
'Let's know the WHY behind social media 'challenges' and not let our desire for cute black and white selfies erase the original intent. Glad someone alerted me to the real reason for this challenge,' Rossum captioned a series of informational Instagram snaps on Tuesday.
другие новости
18 of August 2021 г.

Naomi Campbell gave an emotional speech in front of
the
a-list crowd at Monday night's British Fashion
Awards...
18 of August 2021 г.

Her husband has been in hospital in Los Angeles for
84
days battling COVID-19.
And in her daily update on his condition via her
Instagram, Amanda Kloots said Wednesday...
19 of August 2021 г.

Saweetie reflected on refusing to 'let the world stop
for me' amid her breakup from her boyfriend Quavo of
Migos fame...
19 of August 2021 г.

George Clooney is teaming up with Omaze for a new
charitable venture, and he starred in a hilarious new
video to promote...
17 of August 2021 г.

She's been riding out the COVID-19 pandemic with her
billionaire husband in a tropical paradise.
And on Wednesday, Salma Hayek treated her ...
16 of August 2021 г.

She a three-time Olympic gold medal-winning gymnast.
And now, with her win Wednesday night, Gabby Douglas can
boast at being the first-ever...
25 of August 2021 г.

He's famous for starring in Teen Wolf and the Maze Runner
movies...
25 of August 2021 г.

The first black Bachelor Matt James cheered himself up
by attending the grand opening of Virgin Hotels Las Vegas
...
9 of August 2021 г.

Bella Thorne recently apologized to sex workers on
OnlyFans, after her presence on the adult
monetization
platform caused some trouble...
9 of August 2021 г.

She spoiled him with a classic 80s car for his
birthday
last week.
And Gabrielle Union continued the festivities...