Music news
Reese Witherspoon 'couldn't be more excited' as she inks deal with to star in and produce two romantic comedies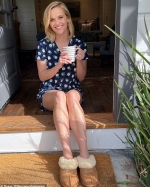 17 of November 2020 г.
Reese Witherspoon is headed to
Netflix
.
The Oscar-winning actress, 44, said she 'couldn't be more excited' as she's set to headline two romantic comedies for the streaming service, titled Your Place Or Mine; and The Cactus.
'We have been looking for the right feature opportunities to collaborate with Ted Sarandos, Scott Stuber and the entire team at Netflix for a while and we couldn't be more excited to be working with them on these two romantic comedies,' the New Orleans native told Deadline Tuesday. '

Your Place Or Mine will be directed by The Devil Wears Prada screenwriter Aline Brosh McKenna, telling the tale of a pair of long-distance best friends whose lives are newly intertwined amid major decisions. Reese is working on the project with Jason Bateman and Michael Costigan's Aggregate Films company.


другие новости
17 of November 2020 г.

But on Wednesday Milo Ventimiglia was also asked about
his show This Is Us, which was recently completely
ignored by the 2019...
17 of November 2020 г.

She was the picture of sophistication when she joined a
slew of stars for the British Fashion Awards held at the
Royal Albert Hall on Monday evening...
17 of November 2020 г.

Barbra Streisand has purchased Disney stock for George
Floyd's six-year-old daughter Gianna.
In an Instagram post Saturday, Gianna posed with her
stock certificate, while thanking...
17 of November 2020 г.

Black Panther cowriter and director Ryan Coogler shared
a tribute to the late Chadwick Boseman on Sunday...
16 of November 2020 г.

He currently leads the Showtime miniseries The Good Lord
Bird as the abolitionist John Brown, who led...
16 of November 2020 г.

She is known for toying the line between vintage and new
age when it comes to her fashion sense...
16 of November 2020 г.

A controversial Instagram post from Chris Pratt asking
fans to vote for his Disney Pixar movie Onward...
16 of November 2020 г.

Blake Shelton thanked his fiancee Gwen Stefani as he
took home the honors for best Country Artist at the 2020
E! People's Choice Awards Sunday in Santa ...
16 of November 2020 г.

Keeping Up with the Kardashians star Kylie Jenner made
sure all eyes were on her while heading to dinner in
Beverly Hills last Friday night...
19 of November 2020 г.

She's seven months along in her second pregnancy.
And on Wednesday, Kelly Rowland showed off her growing
baby bump as she twinned...