Music news
Camila Cabello's musical reimagining of Cinderella pushed to 2021 after production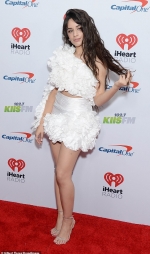 7 of April 2021 г.
She is set to make her Hollywood movie debut in a musical reimagining of Cinderella.
But after filming on the project at Pinewood Studios in England was halted in mid-March due to the coronavirus pandemic, Camila Cabello is going to have to wait a bit longer to see herself on the big screen.
People reported Thursday that Sony Pictures has pushed the film's release to February 5, 2021.

Former Fifth Harmony member Cabello, 23, was cast in the lead role early on in the project and has since been joined by a string of big names.


другие новости
7 of April 2021 г.

Madonna is reportedly on the verge of quitting her
life
in Lisbon, after publicly revealing she feels 'bored
and
lonely' ...
7 of April 2021 г.

She just released her highly anticipated skincare
line, Fenty Skin, last week.
And Rihanna put her favorite products to use...
7 of April 2021 г.

Miley Cyrus has been busy promoting her infectious
new
track Midnight Sky. But the 27-year-old superstar
put
promotion...
7 of April 2021 г.

While the Real Housewives series have long been
associated with copious amounts of social drinking,
three
of the women from the Bravo...
8 of April 2021 г.

Actor Chris D'Elia was dropped by his representation
at
CAA following accusations of sexual misconduct,
according
to Variety on Tuesday...
8 of April 2021 г.

Taylor Swift has become one of the biggest names in
music, all while navigating a male-dominated
industry...
8 of April 2021 г.

And on Thursday, Emma Roberts maintained her fashionista
credentials by sporting a face mask that matched the
color of her sweater...
8 of April 2021 г.

Madison Beer is preparing to drop her debut album Life
Support in the new year...
8 of April 2021 г.

Gal Gadot has teased a crossover between Wonder
Woman and
Black Adam. The 35-year-old actress reprises her
role as
the iconic superhero in Wonder Woman 1984...
6 of April 2021 г.

Her former husband Johnathon Schaech tweeted a photo
from their wedding day last week saying he had to
'explain' it to his son...