Music news
Emma Roberts bundles up with a large scarf and protective face mask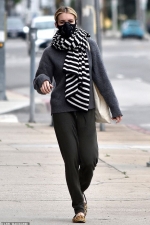 28 of July 2020 г.
Amid
California
's
coronavirus
lockdown, Emma Roberts stepped out of quarantine in a protective face mask, while visiting a medical center in Los Angeles.
While the American Horror Story star has not publicly spoke of experiencing any COVID-19 symptoms, she dressed with an abundance of caution for her outing.
The 29-year-old actress kept her blonde tresses pulled back and wrapped a black and white scarf around her neck on Tuesday.
The beauty accessorized her laid-back look, which included a cashmere sweater and charcoal slacks with a pair of lively leopard loafers. Keeping hydrated, she carried a tall Fiji water with her.


другие новости
28 of July 2020 г.

She's regarded as the reigning Goddess of Pop ever
since
she hit the music scene in the 60s...
28 of July 2020 г.

She just made Grammys history by sweeping the board
in
the top four general categories, aged just 18...
28 of July 2020 г.

Her star has faded since her days as the child star
of films like The Parent Trap,
Freaky Friday and Mean Girls....
28 of July 2020 г.

Matt LeBlanc picked a sunny Sunday to take care of
errands around Los Angeles.
The 52-year-old comic actor was concerned...
29 of July 2020 г.

Doja Cat has revealed that she was diagnosed with and has
since recovered from COVID-19 just weeks after she mocked
people concerned about the global pandemic...
29 of July 2020 г.

Tyra Banks has some very big shoes to fill when she hosts
season 29 of Dancing With The Stars after veterans Tom
Bergeron and Erin Andrews were let go...
29 of July 2020 г.

Jennifer Aniston was clearly overjoyed to learn of her
Primetime Emmy Award nomination on Tuesday morning, which
was her seventh-ever...
29 of July 2020 г.

Brooke Shields isn't letting the quarantine slow her
down. The 55-year-old model/actress was seen in her...
29 of July 2020 г.

He is a man who loves his Dunkin coffee.
And Ben Affleck made his daily run to the chain coffee
shop on Tuesday...
27 of July 2020 г.

Alec Baldwin, 60, walked the red carpet on Monday
night
to present his newest comedy, Drunk Parents...