Music news
Lindsay Lohan set to release first new music in 15 years as she teases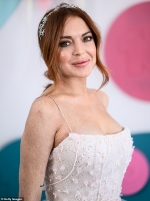 2 of April 2020 г.
Her star has faded since her days as the child star of films like The Parent Trap, Freaky Friday and Mean Girls.
But onetime VMA nominee Lindsay Lohan is ready for her comeback, which she has teased to her 8.3million Instagram followers.
She revealed on Instagram on Wednesday that she was about to release her first new music in 15 years, with a single, Back To Me, dropping Friday.

The 33-year-old squatted in a white mesh ensemble with a pair of blue platform heels, against a trippy technicolor background, animated for the clip.
другие новости
2 of April 2020 г.

His wife shared a loving photo of the two kissing earlier in the day.
Justin Bieber had his own romantic photo...
2 of April 2020 г.

Leonardo DiCaprio will help launch America's Food Fund, which has already raised
$12 million to help communities impacted by the coronavirus...
3 of April 2020 г.

Liam Payne has dismissed claims that he is dating a
sultry Cheryl lookalike after the pair...
3 of April 2020 г.

She arrived for the Pre-Fall 2019 Versace presentation in
a stunning red dress that molded itself to her
fabulous...
3 of April 2020 г.

She recently enjoyed a Caribbean vacation with her teen
daughter. Now back in LA, Courteney Cox was snapped...
3 of April 2020 г.

Katy Perry appeared on The Ellen Show on Wednesday, where
she spoke out about her 'love language' with fiance
Orlando Bloom...
1 of April 2020 г.

Ellen DeGeneres shared a shot from her high school prom on Instagram Tuesday, as
she encouraged her viewers to do the same...
1 of April 2020 г.

He revealed earlier this week that he had been left stranded in California and unable
to fly home to the ...
1 of April 2020 г.

She's been heading into the Global Radio studios every morning to host her radio
show amid the coronavirus lockdown...
1 of April 2020 г.

Ronan Keating and wife Storm welcomed their second child together, Coco Knox,
over the weekend. ...