Music news
Ellen DeGeneres shares throwback prom shot asking fans for shots of their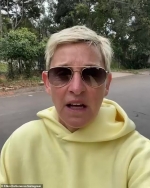 1 of April 2020 г.
Ellen DeGeneres
shared a shot from her high school prom on Instagram Tuesday, as she encouraged her viewers to do the same.
'If your prom was supposed to be this weekend, I wanna see your gorgeous prom outfits,' Ellen, 62, wrote in an caption in the Instagram post. 'This was mine, so the bar is low.'
The talk show host continued: 'Post yours with #ellenprom. I promise you'll wear them to prom soon. #NationalPromDay.'

She had past reunited with her prom date Richard in a segment on her show 12 years ago in which they wore their original outfits, and he's been seen in segments on her show in the years since.


другие новости
1 of April 2020 г.

He revealed earlier this week that he had been left stranded in California and unable
to fly home to the ...
1 of April 2020 г.

She's been heading into the Global Radio studios every morning to host her radio
show amid the coronavirus lockdown...
1 of April 2020 г.

Ronan Keating and wife Storm welcomed their second child together, Coco Knox,
over the weekend. ...
1 of April 2020 г.

Blue singer Lee took to Instagram on Tuesday to claim the devil controls the
government and said people are soon to be injected with microchips....
2 of April 2020 г.

His wife shared a loving photo of the two kissing earlier in the day.
Justin Bieber had his own romantic photo...
2 of April 2020 г.

Shia LaBeouf and Mia Goth appear to be very much back together, a full two years
after filing for divorce.
The recently reunited couple looked like things...
2 of April 2020 г.

Kim Kardashian was seen tending to bloody scratch marks on her back as she and
her sister dealt with the fall out from their shocking...
2 of April 2020 г.

Her star has faded since her days as the child star of films like The Parent Trap,
Freaky Friday and Mean Girls....
2 of April 2020 г.

Leonardo DiCaprio will help launch America's Food Fund, which has already raised
$12 million to help communities impacted by the coronavirus...
31 of March 2020 г.

Britney Spears is one of many celebs self-quarantining at home during the growing
coronavirus pandemic.
And the Grammy winner's ...