Music news
Ronan Keating discusses birth of daughter Coco during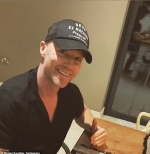 1 of April 2020 г.
Ronan Keating and wife Storm welcomed their second child together, Coco Knox, over the weekend.
And the Boyzone singer told Magic Radio on Wednesday that everyone is doing well, but it was a strange experience as the nation remains in lockdown amid the coronavirus pandemic.
Calling his co-host Harriet Scott, he said of the birth: 'It was obviously very strange, because nobody could come into the hospital.

другие новости
1 of April 2020 г.

Ellen DeGeneres shared a shot from her high school prom on Instagram Tuesday, as
she encouraged her viewers to do the same...
1 of April 2020 г.

He revealed earlier this week that he had been left stranded in California and unable
to fly home to the ...
1 of April 2020 г.

She's been heading into the Global Radio studios every morning to host her radio
show amid the coronavirus lockdown...
1 of April 2020 г.

Blue singer Lee took to Instagram on Tuesday to claim the devil controls the
government and said people are soon to be injected with microchips....
2 of April 2020 г.

His wife shared a loving photo of the two kissing earlier in the day.
Justin Bieber had his own romantic photo...
2 of April 2020 г.

Shia LaBeouf and Mia Goth appear to be very much back together, a full two years
after filing for divorce.
The recently reunited couple looked like things...
2 of April 2020 г.

Kim Kardashian was seen tending to bloody scratch marks on her back as she and
her sister dealt with the fall out from their shocking...
2 of April 2020 г.

Her star has faded since her days as the child star of films like The Parent Trap,
Freaky Friday and Mean Girls....
2 of April 2020 г.

Leonardo DiCaprio will help launch America's Food Fund, which has already raised
$12 million to help communities impacted by the coronavirus...
31 of March 2020 г.

Britney Spears is one of many celebs self-quarantining at home during the growing
coronavirus pandemic.
And the Grammy winner's ...