Music news
Billie Eilish and Dua Lipa are among the talented musicians performing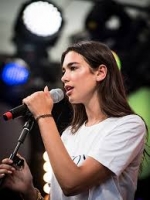 31 of March 2020 г.
Billie Eilish's family shared their tips for getting through the
coronavirus
epidemic on Homefest:
James Corden
's Late Late Show Special on CBS, which aired Monday, part of a star-studded lineup that also included Dua Lipa.
Over a computer screen, James, 41, spoke to the Bad Guy vocalist, who was 'stuck at home' with her mother Maggie Baird, father Patrick O'Connell, and brother Finneas O'Connell, 22.
Billie, 18, sat at a piano, holding two rambunctious puppies named Maudie and Jem on her lap as she prepared to sang Everything I Wanted, accompanied by Finneas, who produced the song.

FM-TV
другие новости
31 of March 2020 г.

Britney Spears is one of many celebs self-quarantining at home during the growing
coronavirus pandemic.
And the Grammy winner's ...
31 of March 2020 г.

Sam Smith was all about the music when they headed out for a walk on Monday
afternoon with their headphones on. ...
31 of March 2020 г.

Dani Dyer headed to her local post office to send off a parcel on Monday afternoon
amid the coronavirus lockdown...
31 of March 2020 г.

Harry Styles has sent his fans into overdrive after
teasing a new project with a link to a mysterious
website...
1 of April 2020 г.

Ellen DeGeneres shared a shot from her high school prom on Instagram Tuesday, as
she encouraged her viewers to do the same...
1 of April 2020 г.

He revealed earlier this week that he had been left stranded in California and unable
to fly home to the ...
1 of April 2020 г.

She's been heading into the Global Radio studios every morning to host her radio
show amid the coronavirus lockdown...
1 of April 2020 г.

Ronan Keating and wife Storm welcomed their second child together, Coco Knox,
over the weekend. ...
1 of April 2020 г.

Blue singer Lee took to Instagram on Tuesday to claim the devil controls the
government and said people are soon to be injected with microchips....
30 of March 2020 г.

The Grammy-winner, 71, had to cancel his show at the
Amway Center in Florida as he was dealing with an ear
infection that left him...