Music news
Sam Smith appears lost in music as they enjoy walk with headphones on after announcing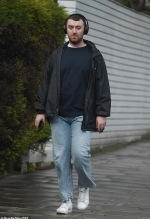 31 of March 2020 г.
Sam Smith was all about the music when they headed out for a walk on Monday afternoon with their headphones on.
And it's little wonder as the acclaimed singer has decided to delay the release of their next album and make some 'important changes' to it due to the coronavirus pandemic.
Sam, 27, who prefers to go by the pronoun 'they', may well have been listening to some of their own tracks now that they have a little more time to tweak their latest music offering.

They were dressed casually, wearing a sweatshirt and cropped stonewash baby jeans worn with trainers, as well as a simple coat.
They recently shared their varying 'stages of quarantine meltdown' after going into self-isolation at their £12 million home amid the coronavirus outbreak.

FM-TV
другие новости
31 of March 2020 г.

Britney Spears is one of many celebs self-quarantining at home during the growing
coronavirus pandemic.
And the Grammy winner's ...
31 of March 2020 г.

Billie Eilish's family shared their tips for getting through the coronavirus epidemic on
Homefest: James Corden's Late Late Show Special ...
31 of March 2020 г.

Dani Dyer headed to her local post office to send off a parcel on Monday afternoon
amid the coronavirus lockdown...
31 of March 2020 г.

Harry Styles has sent his fans into overdrive after
teasing a new project with a link to a mysterious
website...
1 of April 2020 г.

Ellen DeGeneres shared a shot from her high school prom on Instagram Tuesday, as
she encouraged her viewers to do the same...
1 of April 2020 г.

He revealed earlier this week that he had been left stranded in California and unable
to fly home to the ...
1 of April 2020 г.

She's been heading into the Global Radio studios every morning to host her radio
show amid the coronavirus lockdown...
1 of April 2020 г.

Ronan Keating and wife Storm welcomed their second child together, Coco Knox,
over the weekend. ...
1 of April 2020 г.

Blue singer Lee took to Instagram on Tuesday to claim the devil controls the
government and said people are soon to be injected with microchips....
30 of March 2020 г.

The Grammy-winner, 71, had to cancel his show at the
Amway Center in Florida as he was dealing with an ear
infection that left him...