Music news
Angelina Jolie donates $1MIL to No Kid Hungry to feed children who relied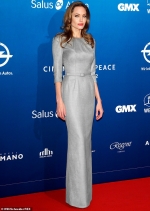 3 of June 2020 г.
Angelina Jolie
is doing her bit to feed underprivileged children whose access to school lunches was cut off by school closures amid the
coronavirus
pandemic.
She has given $1 million to the charity No Kid Hungry, which says it has so far spread $2 million across 30 states to feed low-income children and their families.
'As of this week, over a billion children are out of school worldwide because of closures linked to coronavirus,' said Angelina, 44, in a statement for No Kid Hungry.
She has worked extensively with the United Nations and co-wrote a Time essay published Wednesday promoting UNESCO's new Global Education Coalition, which seeks to facilitate remote education as schools close around the world.
In 2006 the film star and her ex-husband Brad Pitt started their own charity named after their eldest son Maddox, 18, and focused on his native Cambodia.
другие новости
3 of June 2020 г.

Chris Soules' life has seen plenty of curveballs since
his run on season 19 of The Bachelor in 2015...
3 of June 2020 г.

The San Francisco native and Mia, 34, got married in
February 2019 after announcing their engagement in
January 2018...
3 of June 2020 г.

Halle Berry has been a scene-stealer for the entirety of
her 30-year career. And the actress is imparting the
basic skills...
3 of June 2020 г.

Pink has been mastering the art of self-quarantine,
recently making a thorough schedule for her family while
they're stuck at home...
4 of June 2020 г.

She recently graced the big screen in the sequel
Mama
Mia! Here We Go Again...
4 of June 2020 г.

Lady Gaga had kind words after her A Star Is Born co-
star and director Bradley Cooper was snubbed...
4 of June 2020 г.

She has vowed to give up alcohol so she can concentrate
on parenting her son Jonathan, three...
4 of June 2020 г.

She's enjoyed phenomenal popularity since catapulting to
fame as Rachel Green in NBC's Friends in 1994...
2 of June 2020 г.

They're hot on the promotional trail for the latest film
in the Marvel Cinematic Universe, Avengers: Endgame...
2 of June 2020 г.

Some fans of Britney Spears have been subscribing to the
conspiracy theory that the pop star is being controlled
against her will...