Music news
Halle Berry shares cute video of son Maceo attempting to walk in her heels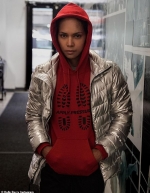 3 of June 2020 г.
Halle Berry has been a scene-stealer for the entirety of her 30-year career.
And the actress is imparting the basic skills she's acquired during that time to her children.
She took to Instagram Tuesday with a video of son Maceo making his best attempt to walk in a pair of her heels.
Berry recently posted a steamy mirror selfie for a quarantine edition of her #FitnessFriday.
She's recently been documenting her fitness journey while starring in and making her directorial debut with her new movie Bruised.
другие новости
3 of June 2020 г.

Chris Soules' life has seen plenty of curveballs since
his run on season 19 of The Bachelor in 2015...
3 of June 2020 г.

The San Francisco native and Mia, 34, got married in
February 2019 after announcing their engagement in
January 2018...
3 of June 2020 г.

Angelina Jolie is doing her bit to feed underprivileged
children whose access to school lunches was cut off by
school closures amid the coronavirus pandemic...
3 of June 2020 г.

Pink has been mastering the art of self-quarantine,
recently making a thorough schedule for her family while
they're stuck at home...
4 of June 2020 г.

She recently graced the big screen in the sequel
Mama
Mia! Here We Go Again...
4 of June 2020 г.

Lady Gaga had kind words after her A Star Is Born co-
star and director Bradley Cooper was snubbed...
4 of June 2020 г.

She has vowed to give up alcohol so she can concentrate
on parenting her son Jonathan, three...
4 of June 2020 г.

She's enjoyed phenomenal popularity since catapulting to
fame as Rachel Green in NBC's Friends in 1994...
2 of June 2020 г.

They're hot on the promotional trail for the latest film
in the Marvel Cinematic Universe, Avengers: Endgame...
2 of June 2020 г.

Some fans of Britney Spears have been subscribing to the
conspiracy theory that the pop star is being controlled
against her will...