Music news
Bachelor star Chris Soules had 'nothing left to live for' following 2017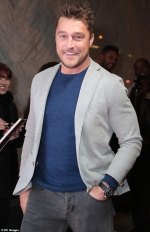 3 of June 2020 г.
Chris Soules' life has seen plenty of curveballs since his run on season 19 of
The Bachelor
in 2015.
The farmer was involved in a 2017 car accident that left a war veteran dead, for which he was sentenced to two years probation.
He recently opened up about the incident, saying he felt he had 'nothing left to live for.'

The 38-year-old said during the Almost Famous podcast: 'There was a period after the accident that I didn't want to get out of bed.

FM-TV

ВСЕ НОВОСТИ ПО-РУССКИ ЗДЕСЬ

ALL NEWS IN ENGLISH HERE
другие новости
3 of June 2020 г.

The San Francisco native and Mia, 34, got married in
February 2019 after announcing their engagement in
January 2018...
3 of June 2020 г.

Halle Berry has been a scene-stealer for the entirety of
her 30-year career. And the actress is imparting the
basic skills...
3 of June 2020 г.

Angelina Jolie is doing her bit to feed underprivileged
children whose access to school lunches was cut off by
school closures amid the coronavirus pandemic...
3 of June 2020 г.

Pink has been mastering the art of self-quarantine,
recently making a thorough schedule for her family while
they're stuck at home...
4 of June 2020 г.

She recently graced the big screen in the sequel
Mama
Mia! Here We Go Again...
4 of June 2020 г.

Lady Gaga had kind words after her A Star Is Born co-
star and director Bradley Cooper was snubbed...
4 of June 2020 г.

She has vowed to give up alcohol so she can concentrate
on parenting her son Jonathan, three...
4 of June 2020 г.

Earlier in the year she fulfilled her dream of performing
with the Spice Girls on their reunion tour.
And Jess Glynne continued to keep up the glamour...
4 of June 2020 г.

She's enjoyed phenomenal popularity since catapulting to
fame as Rachel Green in NBC's Friends in 1994...
2 of June 2020 г.

They're hot on the promotional trail for the latest film
in the Marvel Cinematic Universe, Avengers: Endgame...