Music news
Big Little Lies' Reese Witherspoon enjoys a reunion with co-star Nicole Kidman at the CMA Awards...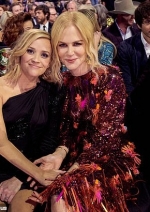 2 of June 2020 г.
Their characters are thick as thieves in hit HBO show Big Little Lies.
And it appears Reese Witherspoon and Nicole Kidman are just as close off screen as they attended the 53rd annual CMA Awards at the Bridgestone Arena in Nashville, Tennessee, together on Wednesday evening.
The two actresses posed for photographs and held hands while sitting side-by-side during the ceremony as they enjoyed a reunion, however it seemed the rest of their Monterey clan was absent from the event.

FM-TV

УСІ НОВИНИ УКРАЇНСЬКОЮ ТУТ

ВСЕ НОВОСТИ ПО-РУССКИ ЗДЕСЬ
другие новости
2 of June 2020 г.

They're hot on the promotional trail for the latest film
in the Marvel Cinematic Universe, Avengers: Endgame...
2 of June 2020 г.

Some fans of Britney Spears have been subscribing to the
conspiracy theory that the pop star is being controlled
against her will...
2 of June 2020 г.

She's been a professional actress since the age of 13.
But Jessica Alba spoke about recently taking a break...
2 of June 2020 г.

Kate Beckinsale was forced to defend herself after SHE
received an unwarranted backlash for sharing her story
about Harvey Weinstein...
3 of June 2020 г.

Chris Soules' life has seen plenty of curveballs since
his run on season 19 of The Bachelor in 2015...
3 of June 2020 г.

The San Francisco native and Mia, 34, got married in
February 2019 after announcing their engagement in
January 2018...
3 of June 2020 г.

Halle Berry has been a scene-stealer for the entirety of
her 30-year career. And the actress is imparting the
basic skills...
3 of June 2020 г.

Angelina Jolie is doing her bit to feed underprivileged
children whose access to school lunches was cut off by
school closures amid the coronavirus pandemic...
3 of June 2020 г.

Pink has been mastering the art of self-quarantine,
recently making a thorough schedule for her family while
they're stuck at home...
1 of June 2020 г.

Naomi Campbell doesn't seem to be pulling back her
rigorous cleaning routine as the coronavirus pandemic
continues...