Music news
Hollywood star Christian Bale's prominent British accent leaves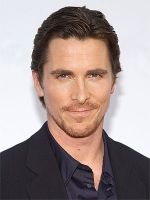 14 of April 2020 г.
He has cemented his a-list status in huge Hollywood blockbusters such as The Machinist, American Psycho and Batman's The Dark Knight series.
But despite being in the movie business since the eighties, Christian Bale's real accent has continued to leave fans shocked and confused.
The star, who was born in Wales and grew up in Surrey, Dorset, and Bournemouth, appeared on BBC Breakfast on Wednesday with Matt Damon, where it was his prominent cockney twang that caught the attention of viewers.

FM-TV

УСІ НОВИНИ УКРАЇНСЬКОЮ ТУТ

ВСЕ НОВОСТИ ПО-РУССКИ ЗДЕСЬ
другие новости
14 of April 2020 г.

Ed Sheeran has reportedly spent £42 million on investing
in the property market...
14 of April 2020 г.

She is one of the highest paid models in the world.
And Adriana Lima proved she can make a sidewalk look...
15 of April 2020 г.

Paris and Nicky Hilton attended Rihanna's annual Diamond
Ball in NYC on Thursday night...
15 of April 2020 г.

Keanu Reeves in early talks to role in appear in
Marvel's The Eternals alongside Angelina Jolie...
15 of April 2020 г.

While coming off his blockbuster Aladdin and with
another potential hit in Gemini Man coming soon, Will
Smith...
13 of April 2020 г.

Colin Hanks was spotted donning a mask a he went on a
food run in Los Angeles Sunday, a day after his father
Tom Hanks hosted Saturday...
13 of April 2020 г.

She and her family are riding out the coronavirus
pandemic at their home in Los Angeles rather than at
their New York abode...
16 of April 2020 г.

Kanye West revealed that the death of 'one of my best
friends' Kobe Bryant was 'a game changer for me.'
Kobe died aged 41 this January with his 13-year-old...
16 of April 2020 г.

John Krasinski has reportedly caught the attention of
Marvel Studios, with a new report claiming the
actor/writer/director has met with the studio...
16 of April 2020 г.

Ellen DeGeneres is donating $1million and offering one
fan the chance of a lifetime to help charities after
being challenged to go 'All In' by...