Music news
Caroline Flack, 40, puts on a VERY steamy display with sportsman beau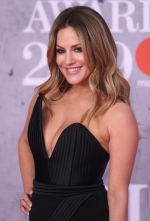 4 of March 2020 г.
Over the weekend, he threw her a surprise party for her 40th birthday.
And Caroline Flack was truly showing her gratitude as she locked lips with her beau Lewis Burton as they watched the tennis during Day four of the Nitto ATP Finals London Tennis 2019 at London's O2 on Wednesday evening.
The Love Island host looked low-key and lovely as she wrapped up in a Burberry scarf while kissing the sportsman who looked dashing in a baker boy cap, in an outing that came shortly after she vowed to 'keep him forever'.

FM-TV

УСІ НОВИНИ УКРАЇНСЬКОЮ ТУТ

ВСЕ НОВОСТИ ПО-РУССКИ ЗДЕСЬ
другие новости
4 of March 2020 г.

Scooter Braun 'is frustrated' with the way he's coming
off amid the latest ongoing controversy involving Taylor
Swift, who said...
4 of March 2020 г.

She tearfully announced earlier in the day that she had
to cancel her Lexington, Kentucky, Sunday night show due
to an ongoing mystery illness...
5 of March 2020 г.

She hosted NBC's Saturday Night Live for the fourth
time
on Saturday night. And after another successful
hosting
gig...
5 of March 2020 г.

Ariana Grande has apologised to fans after a homophobic
protest took place outside her concert in Atlanta on
Saturday...
5 of March 2020 г.

She is known for her role in the iconic sitcom Friends.
However Jennifer Aniston almost missed out on her ...
5 of March 2020 г.

Her co-star Adam Driver, 35, was also in attendance at
the event where he was joined by his wife Joanne
Tucker...
3 of March 2020 г.

Britiney Spears is celebrating her beau's 26th birthday.
The Toxic singer, 38, took to Instagram on Monday and
shared a series...
3 of March 2020 г.

It was the first day of filming on Monday for season 15
of NBC show America's Got Talent. And Heidi Klum, who is
returning as a judge...
3 of March 2020 г.

Kylie Jenner and Travis Scott aren't 'labeling their
relationship'. The 22-year-old reality star split from
the rapper...
2 of March 2020 г.

Post Malone opens up about his famed face tattoos,
saying that he's gotten the ink to boost his confidence
about his appearance...