Music news
Kate Beckinsale reveals her one-time marriage proposal to Ian McKellen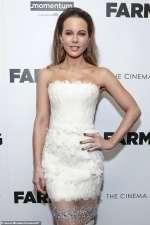 5 of October 2021 г.
While promoting his new movie The Good Liar, Ian McKellen revealed that actress Kate Beckinsale once proposed marriage to him.
The 80 year old actor, who came out of the closet as a gay man in 1988, made the revelation in a game with Mirren called Two Truths and a Lie for Buzzfeed.
After news of the proposal started to spread, the 46 year old actress shared on Instagram that her 'offer still stands.'

The last statement got Mirren to laugh, stating, 'I can absolutely understand a beautiful young woman proposing marriage to you, it's very believable.'


FM-TV

УСІ НОВИНИ УКРАЇНСЬКОЮ ТУТ

ВСЕ НОВОСТИ ПО-РУССКИ ЗДЕСЬ
другие новости
5 of October 2021 г.

James Corden enjoyed a laid-back stroll with his wife
Julia Carey in LA's Pacific Palisades neighborhood after
undergoing eye surgery...
5 of October 2021 г.

Her popular intimates brand SKIMS is releasing its
highly
anticipated 'Waffle' collection tomorrow morning.
And Kim Kardashian treated...
5 of October 2021 г.

They have been in the throes of love since going
public
with their unlikely romance in late May.
And Megan Fox and beau Machine Gun Kelly were...
5 of October 2021 г.

Fans were buzzing earlier this week over rumors that
original Spider-Man star Tobey Maguire and The
Amazing
Spider-Man star Andrew Garfield...
6 of October 2021 г.

Gabby Allen has liked a social media post branding ex-
boyfriend Myles Stephenson a snake after her rumoured
affair with married Dan Osborne...
6 of October 2021 г.

Tom Hanks opened up about his plans with wife Rita
Wilson
to get vaccinated for COVID-19 at the right time, on
Monday's edition of the Today show...
6 of October 2021 г.

Rose, who was born in Italy, described Mexico as 'truly
magical' and 'a really healing land' whilst gushing over
her new home...
6 of October 2021 г.

Michelle Obama praised Alicia Keys for her talent and
grace at the 2021 Billboard Music Awards on Sunday.
The former First Lady remembered her...
6 of October 2021 г.

The Weeknd won big at the 2021 Billboard Music Awards at
the Microsoft Theatre on Sunday evening with a epic 10
wins...
4 of October 2021 г.

'I'm still formulating a lot of things,' the
frontman
told Variety in a lengthy interview that only
touched on
the subject once...