Music news
Miley Cyrus shares sweet video of boyfriend Cody Simpson serenading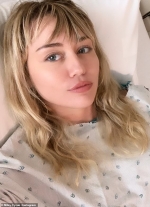 13 of December 2019 г.
Miley Cyrus
is currently hospitalized as she recovers from tonsillitis, but she's staying in good spirits.
It doesn't hurt to have a sweet boyfriend like Cody Simpson who shows up for visitation hours, guitar in tow.
Cyrus took to her Instagram story Tuesday with a black-and-white video of Simpson serenading her in bed.
The Australian musician also brought roses for his beloved, as he arrived toting his guitar case.
She recently began dating Simpson amid her divorce with Liam Hemsworth, following her fling with Kaitlynn Carter

FM-TV

УСІ НОВИНИ УКРАЇНСЬКОЮ ТУТ

ВСЕ НОВОСТИ ПО-РУССКИ ЗДЕСЬ
другие новости
13 of December 2019 г.

She insisted she is 'so busy' running her empire and
doesn't have time to date following her split from her
fiancé Chris Zylka...
13 of December 2019 г.

She shocked fans when she admitted she and husband Karl
Cook don't live together as they are waiting to move into
their dream home...
13 of December 2019 г.

Ed Sheeran's manager Stuart Camp has revealed the singer
often inserts 'stupid' clauses into his contract for a
laugh...
13 of December 2019 г.

They tied the knot in 2002 during a lavish wedding
ceremony at Claridge's Hotel and are often seen out
enjoying each other's company at a string...
12 of December 2019 г.

His regular trips to the dance studio have made fans
wonder if a tour is around the corner. And Justin Bieber
seemed like he was happy...
12 of December 2019 г.

On Tuesday, he was spotted in costume on the Los Angeles
set of the Ryan Murphy Netflix musical The Prom...
12 of December 2019 г.

While he keeps racking up awards nominations left and
right for his critically-acclaimed turn in Joker...
12 of December 2019 г.

Selena Gomez was ready to be protective when she gave her
six-year-old sister Gracie Teefey...
12 of December 2019 г.

The rapper was spotted on set of his new movie Cash Truck
on Tuesday afternoon getting into character as a
criminal...
11 of December 2019 г.

He was recently snubbed from the Golden Globe nominations
for his role in the critically-lauded film The
Irishman...