Music news
Helena Bonham Carter reveals she coped with her father's heartbreaking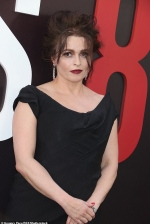 8 of October 2019 г.
Helena Bonham Carter has revealed she started acting at age 13 as a way of coping when her beloved father became paralysed.
The Crown actress, now 53, was just 13 when her father Raymond underwent an operation to remove a brain tumour, which tragically went wrong and left the banker quadriplegic and partially blind.
The two-time Oscar nominee said watching her 'amazing' father, who died in 2004, battle depression made her want to 'invent [her] own life', thus prompting her to get an agent and begin acting.

FM-TV

УСІ НОВИНИ УКРАЇНСЬКОЮ ТУТ

ВСЕ НОВОСТИ ПО-РУССКИ ЗДЕСЬ
другие новости
8 of October 2019 г.

But Lupita Nyong'o appeared on the Tonight Show with
Jimmy Fallon to showcase her talents as an author and a
freestyle rapper on Monday...
8 of October 2019 г.

Liam Payne has knocked a further $1.8million off his
sprawling southern California home in a desperate...
8 of October 2019 г.

She shocked fans when she admitted she and husband Karl
Cook don't live together as they are waiting to move into
their dream home...
8 of October 2019 г.

Kim Kardashian West admits husband Kanye West was warned
that dating her would "sink" his career...
9 of October 2019 г.

Gwen Stefani will receive the second-ever Fashion Icon
Award at the 45th Annual People's Choice Awards...
9 of October 2019 г.

Miley Cyrus is currently hospitalized as she recovers
from tonsillitis, but she's staying in good spirits.
It doesn't hurt to have a sweet boyfriend like Cody...
9 of October 2019 г.

And Eva Longoria got some quality time off mommy duty as
she stepped out to get her nails done in the Beverly
Hills...
9 of October 2019 г.

She's one of the modelling world's most enduring figures,
having enjoyed a decades-long career that's now older
than many of the stars she shares the runway with...
9 of October 2019 г.

Ed Sheeran's manager Stuart Camp has revealed the singer
often inserts 'stupid' clauses into his contract for a
laugh...
7 of October 2019 г.

Orlando Bloom has been revealed as the latest star to
read CBeebies bedtime story...