Music news
Kaley Cuoco says she and husband Karl Cook have 'no problem' with living separately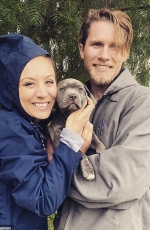 8 of October 2019 г.
She shocked fans when she admitted she and husband Karl Cook don't live together as they are waiting to move into their dream home.
And Kaley Cuoco has insisted the couple have 'no problem' with residing in separate homes as she shed light on their 'unconventional' marriage.
Speaking at the Veuve Clicquot Polo Classic event in Los Angeles over the weekend, the Big Bang Theory star, 33, revealed she and the equestrian, 28 - who have been married for 15 months - are 'taking time with everything' as 'life is all about balance'.

FM-TV

УСІ НОВИНИ УКРАЇНСЬКОЮ ТУТ

ВСЕ НОВОСТИ ПО-РУССКИ ЗДЕСЬ
другие новости
8 of October 2019 г.

But Lupita Nyong'o appeared on the Tonight Show with
Jimmy Fallon to showcase her talents as an author and a
freestyle rapper on Monday...
8 of October 2019 г.

Liam Payne has knocked a further $1.8million off his
sprawling southern California home in a desperate...
8 of October 2019 г.

Helena Bonham Carter has revealed she started acting at
age 13 as a way of coping when her beloved father became
paralysed...
8 of October 2019 г.

Kim Kardashian West admits husband Kanye West was warned
that dating her would "sink" his career...
9 of October 2019 г.

Gwen Stefani will receive the second-ever Fashion Icon
Award at the 45th Annual People's Choice Awards...
9 of October 2019 г.

Miley Cyrus is currently hospitalized as she recovers
from tonsillitis, but she's staying in good spirits.
It doesn't hurt to have a sweet boyfriend like Cody...
9 of October 2019 г.

And Eva Longoria got some quality time off mommy duty as
she stepped out to get her nails done in the Beverly
Hills...
9 of October 2019 г.

She's one of the modelling world's most enduring figures,
having enjoyed a decades-long career that's now older
than many of the stars she shares the runway with...
9 of October 2019 г.

Ed Sheeran's manager Stuart Camp has revealed the singer
often inserts 'stupid' clauses into his contract for a
laugh...
7 of October 2019 г.

Orlando Bloom has been revealed as the latest star to
read CBeebies bedtime story...