Music news
Sam Smith 'asks loved ones to refer to him as "they" instead of "he"'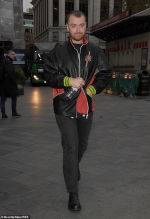 13 of Septeber 2019 г.
Sam Smith has reportedly asked loved ones to refer to him as 'they' rather than 'he', six months after coming out as non-binary.
According to The Sun, the Stay With Me singer, 27, has made the request to friends and family members, with the star thanking Hits Radio presenter James Barr on Twitter this week for a tweet referring to the star as 'they.'
A source told the website: 'This is a decision Sam has thought long and hard about, including doing a lot of reading on up it.

FM-TV

ВСЕ НОВОСТИ ПО-РУССКИ ЗДЕСЬ

ALL NEWS IN ENGLISH HERE
другие новости
12 of Septeber 2019 г.

Jamie Lomas has been seen for the first time since with
Asan N'Jie was sacked from Emmerdale following their TV
Choice Awards fight...
11 of Septeber 2019 г.

They announced they were dating last month as they were
spotted kissing on a yacht in Italy, following splits
from Liam Hemsworth and Brody Jenner...
11 of Septeber 2019 г.

Her new movie Hustlers opens in theatres on Friday.
And on Tuesday, Jennifer Lopez headlined a special
screening of the stripper crime...
16 of Septeber 2019 г.

The Super Bass hitmaker accessorized for the shoot with a
matching pink snapback wrapped in the same monogrammed
material her tracksuit...
10 of Septeber 2019 г.

Bradley Cooper showed support for Joaquin Phoenix and
their new Joker movie Monday during the film's premiere
at the Toronto International Film Festival...
10 of Septeber 2019 г.

She's been busy celebrating her daughter's 18th birthday
and attending several events during New York Fashion
Week...
10 of Septeber 2019 г.

She was pipped to the post for the Best Reality Show
prize by I'm A Celebrity... Get Me Out Of Here...
9 of Septeber 2019 г.

The Walking Dead fans have been speculating about a
secret Star Wars cameo on the hit AMC show...
9 of Septeber 2019 г.

She has become something of a style icon since walking
the red carpet for the Four Weddings...
18 of Septeber 2019 г.

Singer Aaron Carter said he is done with his brother
Nick after the Backstreet Boys singer obtained a
restraining order against him on Tuesday...