Music news
Shia LaBeouf goes bold in red stripes on the red carpet for the TIFF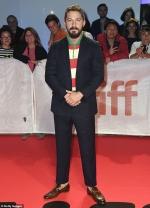 15 of November 2019 г.
LaBeouf completed the look with a pair of brown leather loafers, featuring gold buckles, paired with some matching Gucci socks.
The actor stars in the movie as his own father, which was an interesting performance for his actual father to watch.
He recently told The Hollywood Reporter: 'Yeah, my mother, my dad, they've seen it. It was tough for them to watch it.
'But I think also, they can have distance with it as well. I mean they really, more than they care about this movie s***, they care about their kid, you know?'
While LaBeouf stars as his dad, Boy Erased star Lucas Hedges plays an adult version of LaBeouf.
другие новости
15 of November 2019 г.

She has a leading role in the Netflix four-part drama
When They See Us, about the infamous Central Park jogger
case...
15 of November 2019 г.

He will be walking the red carpet at this year's Venice
Film Festival for the premiere of his new film Waiting
for the Barbarians...
15 of November 2019 г.

Strictly Come Dancing star Kevin Clifton admits he
sought the help of a world famous life coach after his
drinking spiralled out of control...
15 of November 2019 г.

Bella Hadid and her sister Gigi had heads turning as they
arrived to Rihanna's Savage...
14 of November 2019 г.

Nicole Kidman received a Golden Globe nomination earlier
this year for her powerful performance in Destroyer...
13 of November 2019 г.

Cameron Diaz showed her casual chic style Tuesday while
leaving a hair salon in West Hollywood, California...
13 of November 2019 г.

She attended the premiere for her latest film Charlie's
Angels on Monday night...
13 of November 2019 г.

Caitlyn Jenner has been enjoying her last few days of
luxury before she heads into the jungle on I'm A
Celebrity... Get Me Out Of Here...
18 of November 2019 г.

Felicity Huffman made her community service a little bit
sweeter, bringing some cupcakes with her.
The 56 year old actress was spotted arriving...
18 of November 2019 г.

Keri Russell and her partner Matthew Rhys were all
smiles in slightly-matching black ensembles at a special
screening...