Music news
Aaron Carter's restraining order against ex Lina Valentina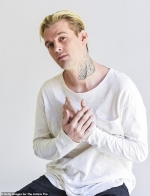 28 of January 2020 г.
Aaron Carter's restraining order against his ex Lina Valentina has reportedly been dismissed, according to
TMZ
.
The singer is said to have failed to show up in court on Tuesday for a hearing to make his temporary restraining order (TRO) permanent, leading to the order being dismissed - less than a month after it was granted.
The Fools Gold hitmaker, 31, claimed his ex-partner violently attacked him during a confrontation in the early hours of July 31, and also alleged she carried a knife and threatened him to stab him. She denied all allegations.

FM-TV

УСІ НОВИНИ УКРАЇНСЬКОЮ ТУТ

ВСЕ НОВОСТИ ПО-РУССКИ ЗДЕСЬ
другие новости
28 of January 2020 г.

As celebrities took their best stab at camp for the 2019
Met Gala this Monday, Demi Moore marched to the beat of
her own drum...
28 of January 2020 г.

She's cemented a successful career as a fashion designer
since rising to fame in the Spice Girls.
And Victoria Beckham made a very bold...
29 of January 2020 г.

Liam Gallagher has finally confirmed his engagement to
girlfriend of five years Debbie Gwyther...
27 of January 2020 г.

He attended the 2020 Sundance Film Festival to premiere
his new movie, The Nest...
27 of January 2020 г.

He and his wife Beyonce were absent from proceedings at
this year's Grammy Awards...
27 of January 2020 г.

It was a night of the stars on Sunday, as the crème de
la crème of the showbiz world turned out at the
Grammys...
30 of January 2020 г.

The 48-year-old superstar looked incredible in an extreme
plunging white gown with glittering embellishment as she
performed...
30 of January 2020 г.

They're two of Hollywood's favorite leading ladies.
So Gal Gadot was thrilled to present Sandra Bullock with
an MTV Move Award for her...
30 of January 2020 г.

Chrissy Teigen has penned a very cheeky response to John
Legend's 'sexiest man alive' title...
3 of February 2020 г.

She starred as Ayra Stark in the hit fantasy series Game
of Thrones. And Maisie Williams looked thrilled as she
joined the cast...