Music news
Kimberly Wyatt displays her blossoming baby bump in a silk dress as she joins husband Max Rogers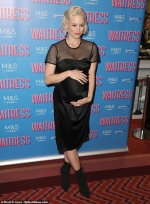 30 of August 2019 г.
She is eagerly awaiting the arrival of her third child later this year.
And Kimberly Wyatt was positively glowing as she attended the media night for Waitress The Musical alongside her husband Max Rogers, 36, at The Adelphi Theatre in London on Tuesday.
The former Pussycat Dolls star, 37, displayed her blossoming baby bump in a black silk dress as she arrived to support her former bandmate and best friend Ashley Roberts' debut in the West End show.

Kimberly teamed her glamorous attire with a pair of ankle boots and posed up a storm as she cradled her growing stomach.

FM-TV

УСІ НОВИНИ УКРАЇНСЬКОЮ ТУТ

ВСЕ НОВОСТИ ПО-РУССКИ ЗДЕСЬ
другие новости
30 of August 2019 г.

But Jennifer Lopez still decided to head out for lunch
and a spot of shopping with a female friend in Miami's...
2 of Septeber 2019 г.

Joaquin Phoenix 'didn't refer to any past iterations of
The Joker' in playing the role...
2 of Septeber 2019 г.

She's never shy in showcasing her sensational figure
attending glitzy soirees. And Ellie Brown, 21, was no
different on Sunday...
2 of Septeber 2019 г.

They confirmed their romance when they put on a cosy
display at the British Summer Time event in July...
3 of Septeber 2019 г.

Dolph Lundgren has revealed he used to have group sex
with Grace Jones and 'four or five' other women - but
complained it left him too tired for work...
3 of Septeber 2019 г.

She's playing the iconic nanny 54 years after Julie
Andrews made the role famous...
3 of Septeber 2019 г.

She recently signed a deal with PrettyLittleThing in
what appears to be the biggest pay cheque for a Love
Island star of this year's series so far...
4 of Septeber 2019 г.

Kylie Minogue put on an energetic performance after
being named a GQ Icon at the GQ Men Of The Year Awards
2019...
4 of Septeber 2019 г.

One upside to having a surrogate is that you can drink
while your baby is growing...
4 of Septeber 2019 г.

Fans say they are 'devastated' and feel 'ripped off'
after they were only offered a partial refund after...