Music news
Ariana Grande apologises after homophobic protest took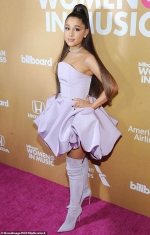 11 of June 2019 г.
Ariana Grande
has apologised to fans after a homophobic protest took place outside her concert in Atlanta on Saturday.
The Thank U, Next songstress, who is an advocate of LGBTQ rights, tweeted her love and support to fans after concertgoers were greeted by two male protesters outside the State Farm Arena holding up a rainbow banner with the word Pride crossed out.
In videos posted to Twitter by fans, one of the men was seen speaking with fans and telling them they 'worship a false God' because they disagreed with the protest. June is Pride month.

FM-TV

УСІ НОВИНИ УКРАЇНСЬКОЮ ТУТ

ВСЕ НОВОСТИ ПО-РУССКИ ЗДЕСЬ
другие новости
11 of June 2019 г.

Past, present and future converged Monday as Shaft star
Samuel L. Jackson posed with Richard Roundtree...
11 of June 2019 г.

Brad Pitt was pictured for the first time since
reportedly giving his estranged wife Angelina Jolie an
ultimatum...
11 of June 2019 г.

They reportedly tied the knot in February following a
four-year romance, And Ed Sheeran made a rare public
appearance...
11 of June 2019 г.

It was revealed she had found love with a model eight
years her junior earlier this week...
12 of June 2019 г.

She made a triumphant return to the Victoria's Secret
Show red carpet following a two-year break after having
daughters Dusty Rose...
12 of June 2019 г.

She looked incredible in a plunging blue dress when she
made her arrival at the People's Choice Awards in Los
Angles on Sunday...
12 of June 2019 г.

Robbie Williams has admitted his three weeks away in
South America while on tour damaged his performers...
12 of June 2019 г.

He's made a name for himself in critically acclaimed
films like Call Me By Your Name and the Ruth Bader
Ginsberg biopic On The Basis Of Sex...
12 of June 2019 г.

Blake went with a more casual look than his partner,
mixing a simple pair of dark blue jeans with a classy...
10 of June 2019 г.

The highly anticipated Big Little Lies returned for a
second season on HBO on Sunday night...