Music news
Bradley Cooper and Irina Shayk SPLIT after four years together.... hours after supermodel is spotted carrying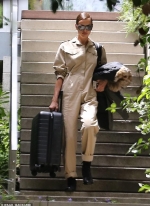 7 of June 2019 г.
Bradley Cooper and
Irina Shayk
called it quits on Thursday after four years together and are working out how to share custody of their daughter, Lea De Seine.
The Oscar winning-actor, 44, and the supermodel, 33, began dating in 2015 and welcomed their daughter Lea De Seine in March 2017.
The news comes four months after Bradley's explosive chemistry with Lady Gaga when they performed together at the Oscars.

FM-TV

УСІ НОВИНИ УКРАЇНСЬКОЮ ТУТ

ВСЕ НОВОСТИ ПО-РУССКИ ЗДЕСЬ
другие новости
7 of June 2019 г.

Bradley Cooper has split from the mother of his
daughter, Irina Shayk, after a four-year romance...
7 of June 2019 г.

They're good friends who enjoy spending time with each
other every so often. And Robbie Williams seemed to have
a great night...
7 of June 2019 г.

Brad Pitt has reportedly given his estranged wife
Angelina Jolie an ultimatum to sign their divorce papers
or risk facing a 'financial sanction.'...
7 of June 2019 г.

Madonna created a grim, religious-themed music video to
promote her new song Dark Ballet, which she released on
Friday...
6 of June 2019 г.

They have just hit screens internationally in their
respective roles as Queen Elizabeth I and Mary, Queen of
Scots...
6 of June 2019 г.

She is in the midst of a new relationship off the screen.
But Kristen Stewart is set to be fully ready to commit in
her upcoming role in Happiest Season...
6 of June 2019 г.

Chris Pratt reportedly celebrated his engagement to
Katherine Schwarzenegger by partying in a London strip
club...
6 of June 2019 г.

Ant McPartlin's addiction battle is set to be explored in
an upcoming Channel 5 documentary...
6 of June 2019 г.

Angelina Jolie spent her Sunday walking hand in hand
with her 10 year old daughter Vivienne...
5 of June 2019 г.

And Catherine Zeta-Jones looked every inch the a-lister
as she touched down at New York's JFK...