Music news
Jason Momoa shows Ellen how to throw an ax before explaining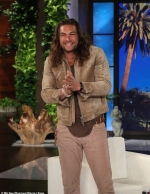 12 of July 2019 г.
Jason Momoa recently taped an appearance on
The Ellen Show
, which airs on Wednesday, where the Aquaman star taught Ellen how to throw an ax.
The Aquaman star also shed some light why, after several years, he shaved his beard, while also revealing how he lost his shirt at the Vanity Fair Oscars party.
Thankfully during the ax-throwing segment, no one was hurt, and the actor and daytime talk show host raised some money for a good cause.

FM-TV

УСІ НОВИНИ УКРАЇНСЬКОЮ ТУТ

ВСЕ НОВОСТИ ПО-РУССКИ ЗДЕСЬ
другие новости
12 of July 2019 г.

'I'm still formulating a lot of things,' the frontman
told Variety in a lengthy interview that only touched on
the subject once...
12 of July 2019 г.

Johnny Depp believes he has a number of witnesses that
can prove Amber Heard's domestic abuse allegations were
false...
12 of July 2019 г.

The 43-year-old actress - who played the part of April in
the fantasy thriller franchise...
12 of July 2019 г.

Kate Winslet is set to star in a remake of Black Beauty
alongside Mackenzie Foy, who was last seen...
11 of July 2019 г.

She's been the centre of the #MeToo movement after going
public with her story of sexual abuse at the hands ...
11 of July 2019 г.

She has been busy promoting The Lego Movie 2: The
Second
Part with her co-star Chris Pratt...
11 of July 2019 г.

She's returned to reality TV for the reboot of the show
that made her famous...
11 of July 2019 г.

Her characteristically quirky outfit ensured she caught
the eye at the star-studded Met Gala on Monday evening...
11 of July 2019 г.

And Miley Cyrus put her skills to good use on Monday
night, as the 26-year-old Wrecking Ball hitmaker danced
up a storm...
10 of July 2019 г.

Daniel Craig has confessed that he's become an expert
drinker since becoming James Bond...