Music news
Kate Winslet signs onto remake of classic children's novel Black Beauty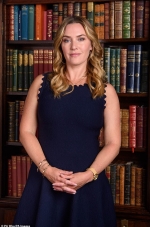 12 of July 2019 г.
Kate Winslet is set to star in a remake of Black Beauty alongside Mackenzie Foy, who was last seen on screen The Nutcracker and the Four Realms.
The Oscar-winning actress, 43, and the rising star, 18, signed onto the reboot of Anna Sewell's children's classic on Tuesday, it was reported by Variety.
In the new film, the Titanic star will voice the horse's inner thoughts, while Mackenzie will take on the role of the 17-year-old lead Jo.

FM-TV

УСІ НОВИНИ УКРАЇНСЬКОЮ ТУТ

ВСЕ НОВОСТИ ПО-РУССКИ ЗДЕСЬ
другие новости
12 of July 2019 г.

The 43-year-old actress - who played the part of April in
the fantasy thriller franchise...
11 of July 2019 г.

She's been the centre of the #MeToo movement after going
public with her story of sexual abuse at the hands ...
11 of July 2019 г.

She's returned to reality TV for the reboot of the show
that made her famous...
11 of July 2019 г.

And Miley Cyrus put her skills to good use on Monday
night, as the 26-year-old Wrecking Ball hitmaker danced
up a storm...
10 of July 2019 г.

She has sparked speculation she's dating model
Wellington Grant. And Kaia Gerber did little to quell the
rumours...
10 of July 2019 г.

Kim Kardashian has revealed she is willing to give up
her highly lucrative media career in order...
15 of July 2019 г.

And on Sunday, Liv Tyler proved she juggles the two jobs
effortlessly as she was spotted on her way out of a toy
shop with...
15 of July 2019 г.

The Monterey Five's massive lie is put to the test in a
major way in Sunday's penultimate episode of Big Little
Lies Season 2...
15 of July 2019 г.

Chloe Grace Moretz's alleged stalker has been hit with
four criminal charges, none of which were for stalking...
9 of July 2019 г.

Simon Cowell has revealed he's already preparing his son
Eric, four, to inherit his music and TV empire...